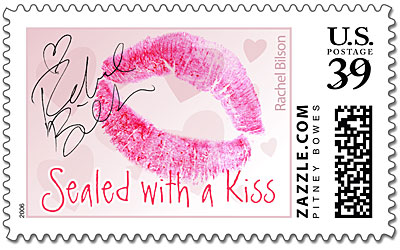 For Valentine's Day, Zazzle has produced valid U.S. postage customized with a kiss from a number of popular celebrities including Loretta Swit (Hot Lips Houlihan), Carrie Underwood, Rachel Bilson, Gene Simmons, Gloria Estefan, Margaret Cho, Wendie Malick, Jason Mraz, Charlotte Ross, Kimora Lee Simmons, Amy Smart, Michael Sorvino, and Persia White.
Add an element of the unattainable to your Valentine's greeting this year: a Valentine sealed with their favorite celebrity's kiss.
Zazzle Stamps are limited edition real US postage stamps that celebrate Valentine's Day. The stamps will only be available until the end of February. Each sheet includes twenty individual large-format stamps and is available in the most common rates.
Zazzle lets you create your own stamps, cards, posters, and t-shirts. Beyond celebrity kisses, use Zazzle to make special Valentine's Day cards, stamps bearing your own lips or photographs, posters full of giant roses, or t-shirts declaring your love.
Zazzle combines on-demand manufacturing, customizable images, and personalization tools.