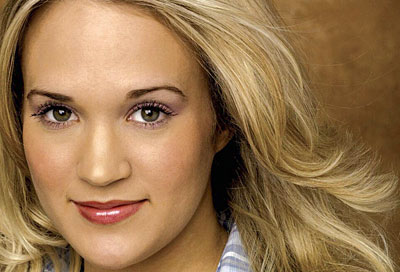 After competing against more than 100,000 contestants, Carrie Underwood, the country girl from Oklahoma who won the hearts of America by winning this year's American Idol competition, has made her recording deal official. Underwood has signed to Arista Records.
Carrie will appear in Skechers advertisements through 2006.
Miss Underwood joins the ranks of other Idols that have gone on to have outstanding music careers under the guidance of Davis such as Kelly Clarkson, Ruben Studdard, Clay Aiken and Fantasia who are all platinum artists and have collectively sold over twelve million albums and climbing.
Davis will also produce in conjunction with Simon Fuller Underwood's full-length debut album to be released this Fall.
The Idol original composition Inside Your Heaven which Underwood sang at the finale was serviced to radio immediately following the taping. The single, backed with Underwood's version of Martina McBride's Independence Day, will hit retail outlets on June 14.
Carrie, 22 years old from Checotah, Oklahoma, competed against more than 100,000 contestants in this year's competition before being crowned the winner.