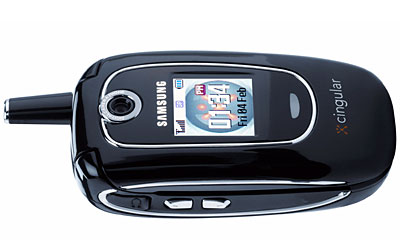 Samsung's p207 is the first EDGE phone with speech-to-text input technology that offers users the flexibility and simplicity to dictate text messages, alleviating the hassle of inputting text with numerous key taps on a small keypad.
The p207 strengthens Samsung's leadership in the wireless industry and showcases their foresight to bring to market simple conveniences through advanced technologies.
Stylishly packaged in a fashionable black casing, the p207 offers a practical text-input method, relevant for a variety of consumers. When typing text messages becomes time-consuming and labor intensive, the p207's VoiceMode integrates easy dictation to speed up the process.
With a built-in dictionary, the user trains the p207 through a series of spoken prompts that captures voice tone and intonation. After the user adapts the system, they are ready to begin dictating messages. The more frequently Voice Mode is used, the more it adapts to the user's voice. In addition, the user can eliminate time-consuming steps when addressing the message by dictating the recipient by name or number.
Additional key features of the p207 include advanced voice recognition with speaker independent message addressing, name dialing, name lookup, digit dialing, check status and application launch commands. The phone interfaces with an EDGE high-speed network. It has an integrated VGA camera and camcorder, uses MP3 ringtones, and provides wireless multimedia and instant messaging.