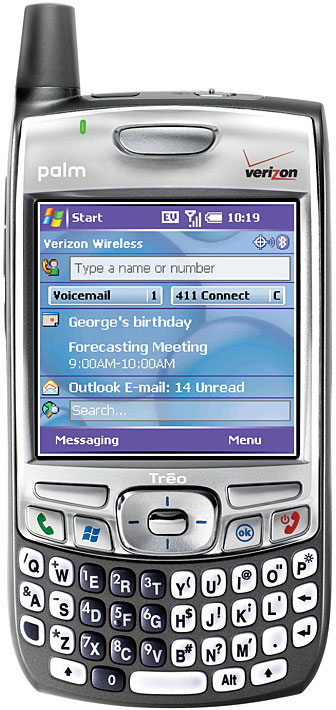 Palm and Microsoft is developing a new smartphone for mobile professionals and businesses. The expanded line of Treo smartphones will run the Microsoft Windows Mobile operating system and will operate on Verizon Wireless' national wireless broadband network.
The collaboration gives customers more choices and marks a dedicated effort to deliver one of the world's most innovative smartphone solutions on the software platform favored by many businesses. Treo smartphones combine the hallmark Palm experience of a full-featured mobile phone with e-mail, messaging, web access and organizational software -- in an attractive, compact design. The new Treo smartphone takes advantage of the Windows Mobile 5.0 platform in multiple ways, offering Outlook Mobile, Office Mobile and Internet Explorer Mobile built into the smartphone, as well as direct access to Exchange Server 2003 for mobile access to information. The new Treo will operate with Verizon's high-speed wireless broadband network and be available in early 2006.
"We've long believed that the future of personal computing is mobile computing, and our collaboration with Microsoft is a historic step in delivering that vision to a larger market," said Palm's Ed Colligan. "We're confident customers will see a differentiated smartphone that delivers our world-class usability on Microsoft's flexible and robust Windows Mobile operating system. We collaborated with Verizon Wireless first because of its high-speed wireless network."
The Treo smartphone on Windows Mobile is a CDMA-based phone targeted for the U.S. market and takes advantage of Verizon Wireless' broadband service on its EV-DO network with download speeds averaging 400-700 kilobits per second, available now in more than 84 metropolitan areas and in hundreds of airports across the nation with download speeds comparable to DSL or cable-modem connections.
"The new Treo smartphone running Windows Mobile will highlight the speed and power of our BroadbandAccess service," said Denny Strigl of Verizon Wireless. "The Treo will deliver fast downloading of email and attachments as well as quick access to critical-business information."