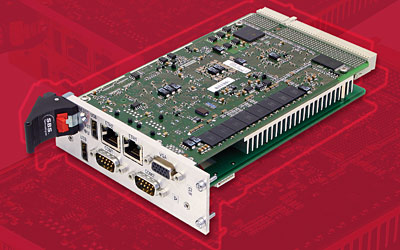 The CL9 high performance single board computer from SBS Technologies is a powerful processor platform for a wide range of applications and markets including multimedia, automation, transportation, imaging, medical, and robotics.
Using the Intel Pentium M processor that incorporates Intel SpeedStep technology, the CL9 SBC eliminates the need for an onboard fan. The CL9's small 3U Compact PCI form factor is well suited for low power embedded computer applications where optimal performance and functionality is required.
"The CL9 is designed for the demanding environments common in commercial and industrial applications," said Adrian Bernhard, Managing Director of SBS Europe. "It offers robust extended temperature computing capabilities for critical systems in a cost-effective, small form factor without requiring extensive development time. SBS engineers have designed this board to have maximum flexibility and high reliability to meet the challenging requirements of industrial life cycles."
The card is available with an operating temperature range of 0 degrees C to 70 degrees C for standard applications. For harsh commercial, industrial and industrial operating conditions, an extended temperature CL9 version is available, depending on processor speed.
The computer is available with two different front options, one or two slots wide, which enables a systems designer the flexibility to choose the right option for their application such as an optional on-board EIDE hard drive or on-board Compact Flash. The CL9's two serial interfaces on the rear of the board accommodate the new SATA hard drives and enable easier installation of the drives within an enclosure.
"Companies like SBS Technologies benefit from using the Intel Pentium M processor to meet the performance and power requirements that embedded applications demand. The flexibility of the processor family allows SBS to scale the CL9 to meet the varying performance needs of their customers," said Steve Sciarappo of Intel.
SBS Technologies designs and builds standard and customized embedded computer products, including processor boards, input/output modules, networking devices, and complete computer systems.