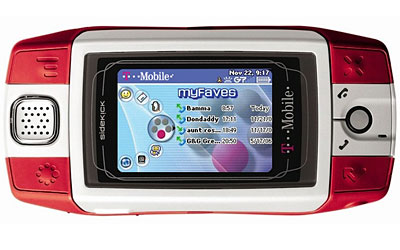 The T-Mobile Sidekick iD became available beginning April 25, 2007 for $99.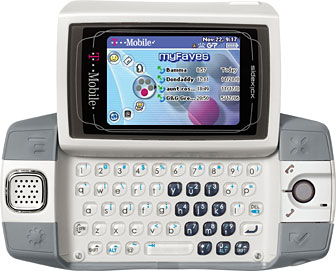 The customizable exterior provides quick modification of the outside of the device with fashionable colors to match anyone's style, mood, or outfit.
The Sidekick iD is designed for anytime, anywhere communication through voice calling and a robust variety of options for messaging-based communication. The signature swivel screen is designed to be a large, color window into one's own personal life. The screen moves to reveal the QWERTY keyboard providing always-on access to e-mail and instant and text messaging.
T-Mobile Sidekick iD Features:
Swivel screen with a large landscape color display for improved viewing of Web pages and contacts
Full HMTL Web browser with enhancements for faster downloading and optimized viewing
Full QWERTY keyboard ideal for instant messaging
Dedicated support for three major instant messaging clients with the ability to hold up to ten IM conversations at one time to stay constantly connected
Support for personal e-mail with a dedicated t-mail account or use of an already existing personal e-mail account
myFaves for additional personalization and the benefit of unlimited calling to any number on any network, including landlines
Trackball for one-handed navigation and an improved gaming experience
Replaceable battery with up to 5.3 hours of talk time and six days of standby