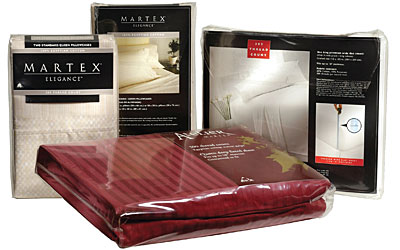 Alcoa's soft, low-shrink, tight-fitting shrink film packaging is now used by Westpoint Stevens on its Martex brand premium bedding and bath accessories.
"We've revitalized Reynolon film packaging so it can be used for the most elegant packages. The soft feel of the film makes it ideal for wrapping premium bed linens, as consumers have expressed that a soft package is more pleasing to touch. Created with optimum clarity and durability, we've created a premium bag for the high-end textile market making the costly pre-made vinyl bags unnecessary," said Anna Husk of Alcoa.
Reynolon 7011 film packaging is used to create bags in a variety of shapes and sizes. It is frequently used for packaging various items ranging from rugs to dog bones.
Alcoa Flexible Packaging manufactures a variety of packaging materials including extrusion and adhesive laminated pouch materials, overwraps and linerstock, blister lidding foil, thermoformed trays, cable wrap, plastic shrink sleeve body labels, and Reynolon shrink film.