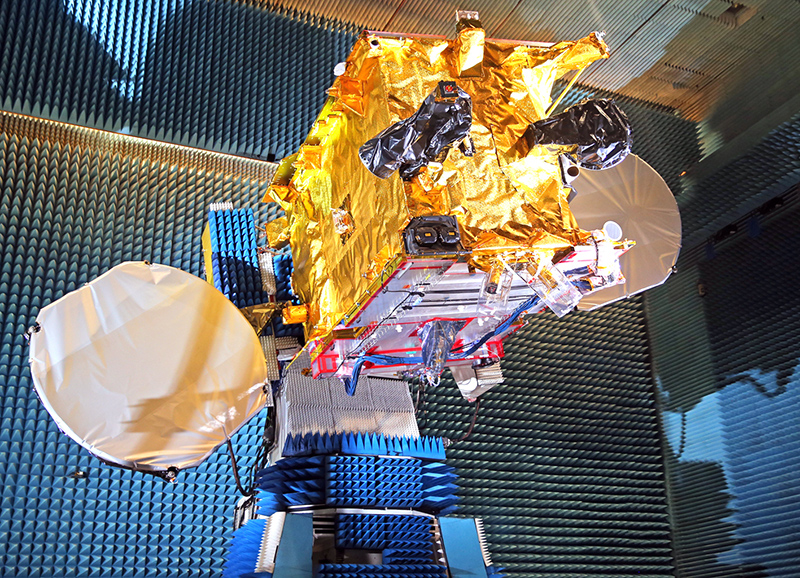 Announced November 29, 2017, the EchoStar 105/SES-11 satellite supporting ultra high definition television has been successfully positioned at the 105 degrees West orbital location and is now fully operational and able to serve the video and enterprise markets in the US.
The dual-mission satellite, providing SES with a C-band payload of 24 transponders of 36 MHz, marketed under the name SES-11, and providing EchoStar with 24 Ku-band transponders of 36 MHz, marketed as EchoStar 105, was launched into space on 11 October 2017 at 6:53 PM EDT. Since then, extensive in-orbit tests have confirmed the flawless functioning of the spacecraft.
This is the second time SES has launched on a flight-proven Falcon 9 rocket, and is SES's fourth launch with SpaceX. The high-powered communications satellite built by Airbus replaces C-band capacity for AMC-18 and Ku-band capacity for AMC-15 at the 105 degrees West orbital slot.
SES-11 is designed to accelerate the development of the US Prime video neighborhood and the delivery of high definition (HD) and ultra-high definition (UHD) channels. It offers comprehensive coverage over North America, including Hawaii, Mexico and the Caribbean. The satellite's C-band capacity is optimised for digital television delivery, and will join SES-1 and SES-3 at the centre of SES's North American orbital arc which reaches more than 100 million TV homes and has 100% penetration in the US.
SES-11 will be utilised for the expansion of SES's North America Ultra HD platform, which hosts the world's largest Ultra HD bouquet of 10 Ultra HD channels and reaches a combined audience of more than 10 million subscribers.
SES-11 will also allow business and government customers to capture new opportunities and expand their reach across the region.
What is Ultra High Definition Television?
Ultra-high-definition television (also known as Ultra HD television, Ultra HD, UHDTV, UHD and Super Hi-Vision) today includes 4K UHD and 8K UHD, which are two digital video formats that were first proposed by NHK Science & Technology Research Laboratories and later defined and approved by the International Telecommunication Union (ITU).