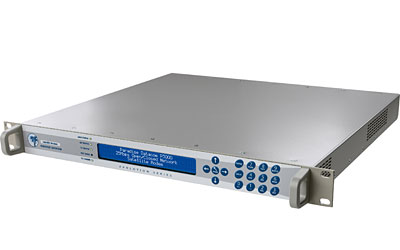 The Evolution Series of Satellite Modems from Paradise Datacom have a new configurable hardware platform that allows the modem design to evolve to meet future demands with the latest features.
The Evolution Series Open Network / Closed Network Modem features operation to 25Mbps, with an option to 52Mbps. Modulation schemes include 8PSK and 16QAM for excellent bandwidth efficiency, and 2nd Generation Turbo Code (TPC) error correction for superb performance in all modes of operation. Most features are enabled through software keys, which makes upgrades a simple procedure.
The local and remote interfaces have been designed to be intuitive and simple. One innovative feature in this new series of Modems is the ability to display information in different languages. This makes the Evolution Series Modem very attractive to users for whom English is not their first language. A built-in web server provides access via a standard web browser, thus eliminating the need for expensive Monitor and Control software and device drivers. SNMP network management is also supported.
The built-in test features, accessed via a web browser, include a receive constellation monitor and a receive spectrum analyser display, both of which are invaluable when analysing link performance, and are cost saving features which reduce the need for expensive test equipment on site. These test features can be accessed over any suitable network, including via Internet, so low cost remote link monitoring and debugging is now a reality.
All aspects of the design and functionality have been carefully thought out so as to offer maximum features and flexibility at minimal cost.
Paradise Datacom designs and manufactures sophisticated and flexible satellite communication equipment including satellite modems, SSPAs, LNAs, BUCs, transceivers and associated redundancy equipment.