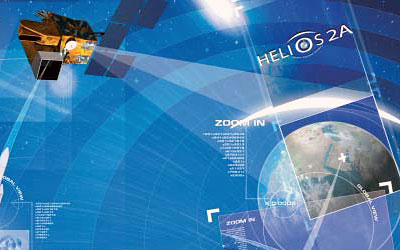 Arianespace has successfully launched the Helios 2A observation satellite for the French, Belgian and Spanish ministries of defense.
The Ariane 5 launch vehicle accurately injected Helios 2A into Sun-synchronous polar orbit. The mission also deployed six auxiliary payloads: four Essaim microsatellites and two other small spacecraft, Parasol and Nanosat.
The standard Ariane 5G launcher is showing its ability to handle a complete range of missions, from government launches into Sun-synchronous orbit to huge commercial satellites into geostationary orbit and scientific spacecraft into special orbits.
The launch was from Europe's Spaceport in Kourou, French Guiana.
Helios 2A is the initial satellite in France's second-generation security space-borne observation system, being conducted in conjunction with Belgium and Spain.
Helios 2A was built by EADS Astrium as prime contractor, leading a large team of European subcontractors, including Alcatel Space, in charge of the high resolution imaging instrument.
The Essaim program is designed to demonstrate the feasibility of space-based detection of electromagnetic transmitters, and evaluate the performance of this type of system. EADS Astrium is prime contractor for the Essaim program.
The Parasol microsat aims to characterize the radiation and microphysical properties of clouds and aerosols. French space agency CNES is prime contractor for the Parasol microsat.
Nanosat will provide an in-orbit demonstration of several telecommunications nanotechnologies, as well as solar and magnetic sensors. It was developed and built by INTA of Spain.