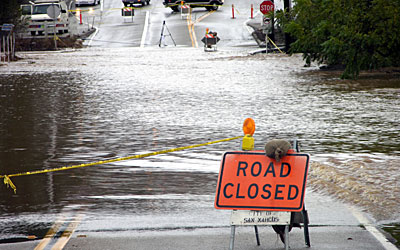 A sandless sandbag containing 18 ounces of polymer inflates with water like a balloon to replace 50 pounds of sand for any flood control use achieving savings is cost, labor, handling and storage.
Called the Dam Bag, it absorbs moisture like a baby diaper and its easy handling and storage offer speed of use speed in an emergency says manufacturer Dave Donnan.
"You can put 400 bags in a pickup truck (18 boxes) and go to emergency location, place and deploy in less than 30 min. The idea came from a visit to Japan and the Japanese used a similar version to block water in front of 7-11 store."
According to Donnan, orders have been received from municipalities and home/garden centers. "The sack material is jute, which is used in rope and has a shelf life of at least 10 years," says Donnan.
This sack contains small bags of water absorbing polymer that will absorb up to 250 times its size. Once fully expanded the bag will slowly decrease in size over 30 days. The bags can be reused again. In drought conditions you can put these around plants and trees and slowly water them.
Mike Madden of Butte County Emergency Service said they'd passed his "obstacle course" -- a series of tests he did with the manufacturer and public works employees. He found that the bags lasted through 16 re-uses.
"We've had them build dams with it, build rings for boils, and stop water damage for homeowners who are in flood zones, to show they'll work in public use situations," he said. "We used them to dam up a stream. We took over a large swimming pool and built (conditions designed to match) a slow flood rise," he said. "Public works and I were a little bit suspicious. We tested the hell out of these things and they work."
"Whether you submerge it completely in water or just run a hose on it, this can be the homeowner's lifesaver. When city or county emergency crews are busy you can protect your home or business and save thousands of dollars. And you don't break your back carrying heavy sandbags," Donnan says.