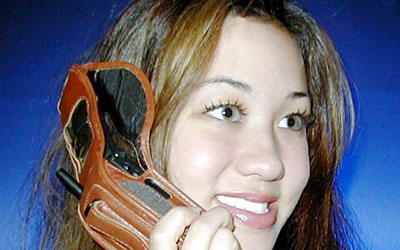 CellBlock Anti-Radiation Cellular Phone Covers will be introduced at the February, 19-22 Magic 2002 Show taking place at the Sands Las Vegas Convention Center. Radiation is blocked and deflected away from the cell phone user thereby improving your safety. A scientifically calculated fan provides optimal protection from antenna microwaves.
Demonstrations will show how cell phone radiation passes through your human body and tissues. Wild NRG demonstrates how CellBlock shields the radiation from your body. Consumers now have a choice if wireless energy should pass through their body.
According to CellBlock creator Kevin Chung, "A combination of technological advances and research allows the CellBlock cover to protect you and those you love from harmful radiation." Chung added, "The leather covers are stylish so that it is possible to stay safe and fashionable at the same time."
Wireless devices require microwave radiation to transmit communications. Health officials have been raising questions regarding the connection between radiation from cellular phones. Research programs have proven that it is impossible to rule out the possibility of grave health risks. Cellular phones have the capacity radio frequency (RF) and electro magnetic fields (EMF) to heat tissue, such as brain cells. This thermal effect is known to have genetic effects and might lead to tumor growth or cell damage. Far field radiation is everywhere. Cell phone use is of particular concern because of the close proximity to the brain and head (near field radiation).
CellBlock covers protect the body from the whole phone, transforming ordinary cellular phones into radiation shielding protective devices. It also significantly reduces original cellular telephone specific absorption rate (SAR) values. CellBlock covers are fashionable, and available in the finest assortment of designer leathers.
There is no noticeable effect on overall operating reception or transmissions. It is even good for hearing aid users, as there is less interfering feedback. CellBlock high tech polymers have been incorporated into the leather designer-styled cellular phone covers. Each phone cover is scientifically engineered to provide protection from both RF and EMF radiation.