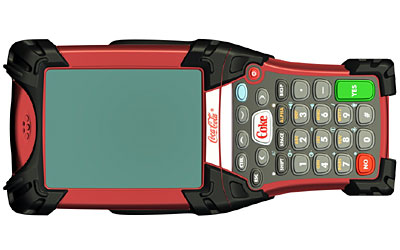 Coca-Cola Enterprises is purchasing Symbol's next-generation handheld computer, the Symbol MC9000, as part of a comprehensive enterprise mobility solution for its North American and European mobile workforce. The new Symbol handheld computer will be deployed throughout its mobile workforce for strategic logistics, delivery and service applications to maximize efficiencies and customer service.
"Symbol is a strategic technology partner with a superior enterprise mobility vision and product roadmap. Symbol is committed to working closely with us to keep us in a technology leadership position. As a result of this partnership, we have developed a high-performance, ruggedized handheld computer customized for the beverage industry. This new technology will provide the foundation for delivering innovative mobile solutions that enhance productivity and maximize customer value," said Christopher Koterski, program manager of Mobile Computing.
The company "is a pioneer of the beverage industry and has become a leader in mobile workforce enablement by providing its field team with technology that delivers information at the point of decision and allows them to better service their customers" William Nuti, Symbol president and CEO said. They are "counting on our mobile computing technology to set new benchmarks in the delivery of enterprise mobility solutions."
The new Symbol handheld computer, a variation of the recently introduced Symbol MC9000-G, is rugged and reliable enabling it to work in extreme temperatures and weather conditions. It has important features that benefit Coca-Cola Enterprises workers including a bright, high-resolution color screen for easy reading indoors and outdoors; Symbol Wi-Fi wireless networking; Microsoft Windows Mobile 2003 Software for Pocket PC for robust application development; the powerful 32-bit XScale processor from Intel; and rechargeable, extended-use lithium-ion batteries. The MC9000 incorporates the new Symbol imaging engine, which at one-fifth of a cubic inch is the smallest miniature bar code imaging system, combining CCD sensor technology with "Smart Focus" technology from Symbol plus proven intuitive laser-aiming guidance and self-illumination. The resulting benefits include outstanding performance reading both one-dimensional and two-dimensional bar code symbols from multiple angles as well as excellent image capture quality.
Symbol (now with Zebra) enterprise mobility solutions integrate advanced data capture technology, mobile computing platforms, wireless infrastructure, mobility software.