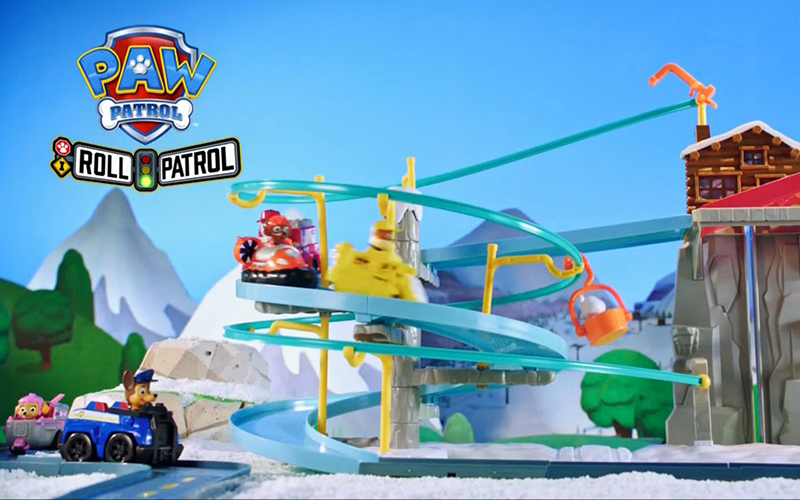 Rubble's Rescue Playset. Paw Patrol Roll Patrol - New Rebel's Rescue Playset. The elevator is the fastest way up Rebel's Mountain. Let's slide down to safety.
Build your very own Adventure Bay rescue with the Paw Patrol Rubble's Mountain Rescue Track Set. Will you help Rubble save Baby Polar Bear?
Lift Rubble in his bulldozer up the elevator to the top of the mountain and save Baby Polar Bear in the basket by racing down the mountain on the spiral track set. Connect other Paw Patrol track sets and create all new adventures. All mini figures and PAW racers work with Paw Patrol Roll Patrol sets.
Speed Down the Spiral Ramp and Zipline - This eight-piece racetrack comes with cool features, like a spiral ramp and zipline. With Baby Polar Bear hanging from the zipline, and Rubble on the ramp, who will make it to the bottom first? Race Rubble and Baby Polar Bear over and over again to recreate this daring rescue mission.
Go Up and Down in the Elevator - This Paw Patrol playset features a real working elevator. Load Rubble into his Rescue Racer, place him at the bottom, push the lever, and he'll head straight to the cabin at the top of the snowy mountain.
Zoom Around in Rubble's Rescue Racer - This set comes with an exclusive Rescue Racer. Put Rubble behind the wheel and zoom into adventure. The Rescue Racer is an accurate replica of Rubble's signature vehicle. Kids will have fun staging daring rescue missions with Rubble in the driver's seat.
1 Rubble Mountain Rescue Playset
1 Rubble Rescue Racer
1 Baby Polar Bear Figure
1 Basket
5 Straight Tracks
1 Merge Track
1 Curved Track
1 Track End