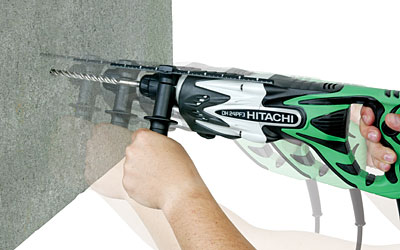 Hitachi's new 15/16" SDS Plus Rotary Hammer offers significantly faster drilling speed and chiseling force.

This new rotary hammer is designed for the professional who demands speed and reliability from a rotary hammer. The powerful 7.0 Amp motor produces a best-in-class 2.5ft/lbs of impact energy, a no-load speed of 0-1,150 RPM and an impact rate of 0-4,600 IPM. These combine to give the tool a best in class drilling speed that will beat the competition every time.

The DH24PF3 Rotary Hammer delivers 3-modes of operation: drilling only, hammering only and hammer drilling, controlled by an easy-to-use mode selector dial located under the body. The 3-modes tackle a multitude of jobs from drilling anchor holes in concrete to groove digging and light chiseling.

At just 5.3 lbs and 16" in length, the DH24PF3 is one of the lightest and most compact rotary hammers in its class. This increases maneuverability and reduces fatigue during use. The soft elastomer coated D-handle helps to absorb vibration and provides a comfortable and secure grip.

The new rotary hammer reflects the aggressive new ergonomic design being implemented by Hitachi Power Tools. Hitachi is pioneering yet another new trend in the industry - tools that incorporate the latest technology with ergonomic design - a look that will modernize the traditional shop or jobsite.

The hammer is the ideal tool for plumbing and conduit installation, HVAC and pest control installation, electrical installation, construction, repair work, and other civil engineering applications. It comes complete with a depth gauge, side handle and carrying case.

Hitachi Power Tools carries an extensive line of professional grade tools and accessories for: woodworking, metalworking, concrete drilling and cutting, as well as a complete line of pneumatic nailers, staplers, compressors, and collated fasteners.