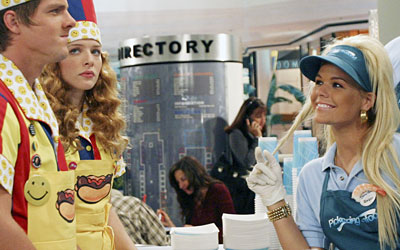 Production has started on Paramount's half-hour comedy series Related by Family for Fox. Created and executive produced by Emmy Award-nominated Victor Fresco, the series charts the outrageous mishaps and unconventional home lives of a group of teenagers who work odd jobs at the local mall. Related by Family is tentatively set to premiere on Fox in January 2005.
The show marks Amy Yasbeck's return to series television since her last co-starring role on Alright Already for The WB in 1997. She starred for three seasons on Paramount's top-rated Wings. Yasbeck stars as Michelle Lackerson, a mother doing her best to make the home life of her blended family work.
In addition, American Idol second season winner Ruben Studdard and finalist Kimberly Caldwell will be featured as guest stars in an early episode, portraying Bobby and Ginger, respectively, two fast food restaurant employees who annoyingly break into song to praise the food they are serving.
Related by Family centers around a group of teens who have been hired at the local mall's Yippee, Hot Dogs and soon find themselves up against their unpleasant boss. The cast of characters includes Laz (Zachary Knighton), an optimistic, but unambitious 18-year-old; his best friend Fred (Charlie Finn); and the object of Laz's affection, Lily (Rachelle Lefevre). At home, Laz's father, Rick (Matthew Glave), stepmother Michelle (Yasbeck), stepsister Molly (Saige Thompson) and half-brother Gus (Frankie Ryan), are all learning that it takes blood, sweat and tears to make life work in a blended family.
Future episodes find the quirky teens job-hopping all over the mall, Lily deciding that she and Laz are better off as friends and Molly putting herself on the line for a guy who already has a girlfriend. Other storylines find Rick and Michelle obsessing over the only product of their union -- the sweet, perfect and wise, nine-year-old Gus; Laz and Fred convincing themselves that taking time off before college will help make them the men they desperately want to be; and Michelle keeping a watchful eye on the kids from her salon in the mall.
Victor Fresco is the executive producer and creator of Related by Family, which is produced by Paramount Television for Fox. Paramount Television is a unit of Viacom.