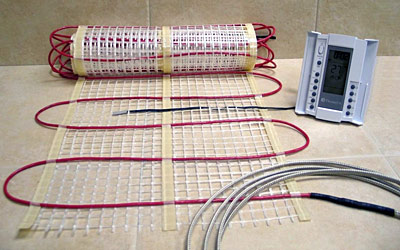 A new electronic floor heating system that is easy-to-install, safe, and durable has been introduced to the tile floor heating market. Do-it-yourselfers and professional installers will appreciate the simplicity and commercial grade quality of this radiant floor heating mat. Thermosoft's tile floor heaters are installed in a thin layer of cement before laying the tile and connected to a variety of available thermostats for maximum energy savings. Thermosoft's floor warming mats are listed by Underwriter's Laboratories and marketed under the ThermoTile and ThermoFloor brand names.
Russ Dunn of Thermosoft stated, "Anyone who has experienced the shock of stepping onto a cold bathroom floor in the morning will appreciate this new product. Thermosoft's market entry leverages our fully integrated U.S. manufacturing base and the latest worldwide advancements in electric radiant heating technology. Our goal is to make underfloor heating, which was once considered a luxury, more widely available to homeowners particularly do-it-yourselfers. We offer low prices and a lifetime warranty to back up our product's superior positioning."
Thermosoft also manufactures a radiant floor warming pad designed specifically for laminate flooring. The laminate floor warming pad is manufactured for MP Global Products and marketed under their Quiet Warmth brand name.
Quiet Warmth combines Thermosoft's advanced heating technology with the sound barrier and temperature insulating properties of MP Global's Insulayment underlayment pad. What's more, Quiet Warmth's one-step installation does not require any cement.
FiberThermics is the trade name for Thermosoft's new generation of textile-based heaters. The patented and patent-pending heaters conduct electricity through textile fibers and special alloys specifically designed for heating. What makes FiberThermics unique is its innate thermal cut-off capability that assures homeowners of maximum durability and safety.
Thermosoft commercializes FiberThermics heating technology for application to a wide variety of consumer and commercial warming products in the household, automotive, healthcare, and industrial markets.