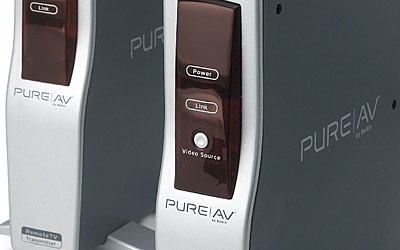 The Pure AV Remote TV by Belkin lets you view video and listen to music from one room to another wirelessly. Combining proprietary technology (Air 5) in the 5GHz frequency range and component-video connectivity, the Remote TV offers the best range available without interruptions at up to 350 feet and superior audio video quality.
Because it utilizes proprietary wireless technology that reduces interference and delivers up to 40Mbps of bandwidth through the 5GHz frequency range, the Remote TV far exceeds the performance of the average wireless audio video sender. The Remote TV is the first audio video sender to incorporate a component-video connectivity option for obtaining optimal resolution. Its Remote Control Extender lets you use an existing remote to control your video source in the other room, saving you the hassle of walking back and forth, and the expense of purchasing a separate remote.
The Remote TV consists of two primary pieces, the Pure AV Remote TV Transmitter and the Pure AV Remote TV Receiver. The Transmitter sends audio and video from a source component -- such as a cable box, satellite receiver, digital video recorder, DVD/CD player, or AV receiver -- to the Remote TV Receiver, which is connected to a TV, LCD, or plasma display in a separate location.
The system provides full-house coverage with transmission speed of up to 40Mbps at up to 350 feet.