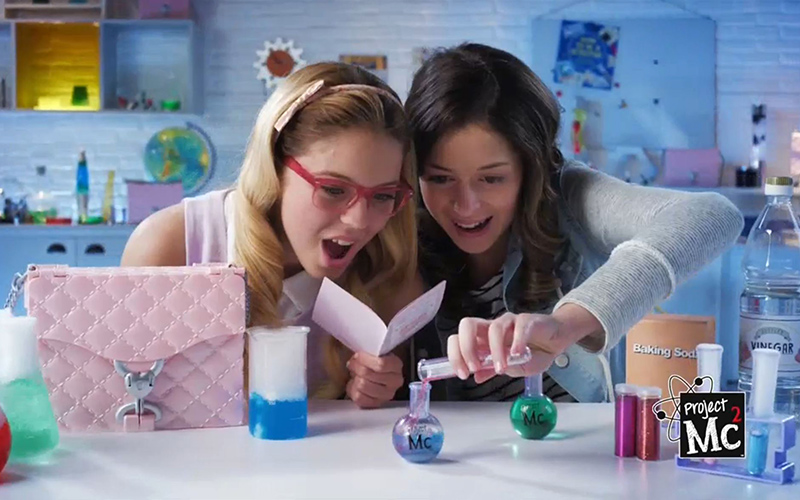 Project Mc2 Ultimate Spy Bag - What's the secret password? Ultimate Spy Bag. Unlock glam gadgets. Secret agent swag. Lipstick message on the fly, Experiment too, nail polish flashlight in disquise. Mission is on. Powder puff, what you use, perfume reveals secret hits, compact magnifies your prints. Comes with fifteen gadgets and an experiment book.
Become a top NOV8 agent with the Ultimate Spy Bag, from the Netflix Original Series, Project Mc2. Unlock the Ultimate Spy Bag to reveal over twenty secret agent pieces. Use the fingerprinting kit to dust powder over prints, and then use it as shimmery makeup powder. Secret agent tools also include an air blower that looks like a perfume bottle and a secret message launcher that looks like a lipstick.
Investigate in style with spy gadgets in disguise. Use the Ultimate Spy Bag on your secret missions. Prove you have what it takes to become a top NOV8 agent.
Fingerprinting kit -- includes dusting powder that can also be used as shimmer makeup powder
Air blower that looks like a perfume bottle
Cards to collect fingerprints
Magnifier hidden in a makeup compact
Secret message launcher that looks like a lipstick
Flashlight disguised as a nail polish bottle
Beakers, test tubes and booklet with fun, secret agent experiments
Project Mc2 is a team of smart cool girls who use their love of science and their spy skills as they go on missions for secret organization, NOV8 (that's innovate). Watch new episodes of the Project Mc2 original series on Netflix.