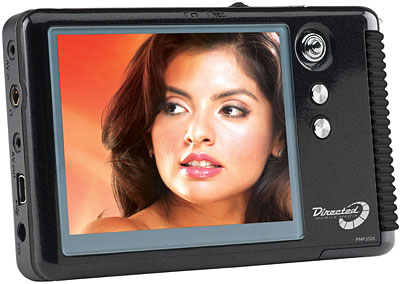 A new Portable Media Player from Directed Electronics will be available in early September. The lightweight, pocket-sized video and audio player stores digital content in a wide variety of formats on a 20 Gigabyte hard drive, and plays it back on a large 3.5 inch digital LCD screen. The device allows users to capture and transfer video and audio content from TV, camcorders, personal computers, SD/MMC memory cards and from other similar devices to the PMP for playback at any time for their own personal use.

The PMP3520 also contains an FM radio, a clock with alarm, a voice recorder and comes with built-in DivX and MPEG4 video encoders as well as an MP3 audio encoder.

The removable and rechargeable Lithium Ion battery pack will play 3.5 hours of stored video or 8 hours of MP3 audio between charges. The unit will cost $449 and come with headphones, USB 2.0 OTG and RCA cables, AC adapter, credit card-sized remote control, and carrying case.

"The portable media players market is an exciting new category in consumer electronics, and a logical extension of the popularity of portable MP3 players," said Jim Minarik of Directed Electronics.

The Directed Mobile Media family of products includes models that are dockable in Directed Video Overhead Monitors.