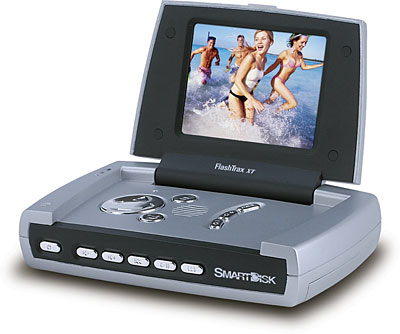 FlashTrax XT is a handheld portable device for storing, playing and sharing digital images, video, and music from SmartDisk.
The palm-sized, portable multimedia player and video recorder stores high-resolution images transferred from any flash memory card or video device and displays them on its 3.6" LCD screen, on a TV or a projector. In addition, the user can enjoy music from a personal collection, listen to the built-in FM tuner, or watch slide shows while listening to music. A user-friendly screen display and control make video, image or music selection quick and easy. The LCD folds to ensure that both the screen and control buttons remain protected while on the go -- a unique feature among portable multimedia players. With transfer speeds of up to 480MBps, Flash tracks can also serve as an external hard drive to transfer, store, and access data. To facilitate portability, the portable media player and recorder also includes a rechargeable Lithium-ion battery.
"FlashTrax XT is an extension of our popular FlashTrax device and incorporates broader support of digital video," says Charles Klinker, Vice President-Marketing for SmartDisk. "The desire to record, store and play back your multimedia content wherever you go is a growing trend among consumers. Flash Trax XT also enjoys a significant price advantage over competing products, making it more accessible to many consumers."
When the device is available in May the 40GB version will cost $400 and the 80GB will go for $500.
SmartDisk provides portable, network and multimedia storage products and technologies for sharing, enjoying, and preserving digital content.