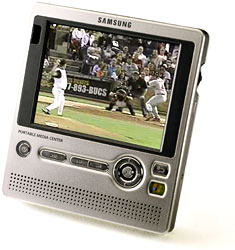 Portable Media Centers are a new category of multimedia players that allow people to enjoy all the digital entertainment they store on their PC -- recorded television, music, movies, and pictures -- on one device. Using any personal computer running Microsoft Windows XP and the new Windows Media Player 10, people can transfer music, photos and video to their Portable Media Center.
The first available Portable Media Centers are the Creative Zen Portable Media Center and the Samsung YH-999. Both machines have 20 GB of storage and retail for $499 (U.S.). The Creative Zen Portable Media Centers are scheduled to be delivered in late August to consumers who have preordered, and the Samsung YH-999 will be available in late September.
Major League Baseball games, condensed games, archival footage and select classic games will be available for download and transfer to a Portable Media Center, making it easy to watch games anytime and anywhere you want to be.
Portable Media Centers are a result of close collaboration between Microsoft and leading consumer electronics manufacturers such as Creative Labs, iRiver International, and Samsung Electronics, as well as Intel Corporation, maker of the XScale technology reference design. The Creative Portable Media Center and Samsung YH-999 are the first to be introduced, and iRiver plans to launch the PMC-100 later this fall.
Easy-to-use buttons and an intuitive screen on the Portable Media Center help people quickly navigate through thousands of songs and photos and hours of video. A Portable Media Center with a 20GB hard drive will store and play up to 80 hours of video, up to 5,000 songs or tens of thousands of photos -- enough to chronicle a lifetime. As a part of this agreement with MLB.com, several entertainment companies and services have committed to providing movies, music or other entertainment for Portable Media Centers. Worldwide, there are more than 1 million tracks available in Windows Media Audio format from more than 60 online music stores that can be transferred to the device. Online music store Napster.com has announced it will make subscription content available for Portable Media Centers. Online movie store CinemaNow will make select movie titles available to Portable Media Centers for rental or purchase.
In addition to photos, music, movies or videos found online, users will be able to record television digitally on a PC and transfer it to the Portable Media Center. With Windows XP Media Center Edition, the computer is already enabled to easily capture and transfer recorded television from the PC to a Portable Media Center. People using Windows XP can record television shows with a TV tuner card and SnapStream Media's Beyond TV 3 software and then transfer the recorded shows to the device.
Windows Mobile-based Portable Media Centers are handheld entertainment devices that make it easy to store and play recorded television, movies, home videos, music and photos transferred from a PC with Windows XP. Users can watch and listen to their favorite entertainment anytime and anywhere -- in the palm of their hand or through a TV or stereo. It's simple to sync music, video and pictures from the PC with Windows Media Player 10, and fast and easy to find the entertainment users want to play on their device. Portable Media Centers also support Windows Media Audio and Windows Media Video plus other leading file formats, so users can choose from a wide range of music, videos and pictures.