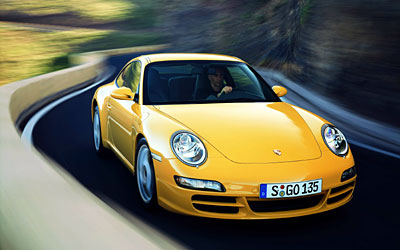 Porsche today disclosed the first information available on two all-new Porsche 911s destined to be the flagship models for its model year 2005 sports car lineup. The all-new Porsche 911 Carrera and more powerful 911 Carrera S combine the classic 911 silhouette, a trademark of the model for more than 40 years, with new and more aggressive styling.
Both models feature Porsche's traditional horizontally opposed flat-six cylinder engines. The 911 Carrera's 3.6-liter unit produces 325 HP (SAE) while the 911 Carrera S's newly developed 3.8-liter power plant delivers 355 HP (SAE). Both cars also have a new six-speed gearbox and a reworked chassis, which includes active suspension as standard on the S model.
The new 911 models will go on sale in the second half of 2004. Manufacturer's suggested retail price for the 911 Carrera is $69,300 US and for the 911 Carrera S $79,100 US.