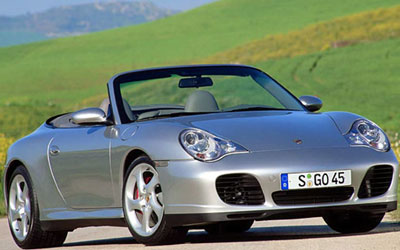 Porsche Cars North America today announced the introduction of the 911 Carrera 4S Cabriolet for the 2004 model year. This new model combines exceptional driving dynamics with the feel of an open sports car.
The 2004 Carrera 4S Cabriolet features a 3.6-liter six-cylinder engine that can reach a maximum track speed of 174 mph, matching that of the current 911 Carrera 4S Coupe. The Cabriolet accelerates to 62 mph in just 5.3 seconds, two tenths of a second slower than the Coupe. This fact is very impressive given the additional 154 lbs. in weight carried by the Cabriolet.
All drive and chassis components are perfectly in tune with the rigid Cabriolet body. The car's safety reserves include the standard electronic Porsche Stability Management (PSM) system for driving dynamics control, which works together with the four-wheel drive to ensure excellent driving stability.
The soft top of the Carrera 4S Cabriolet is made from high-quality fabric and features the revolutionary zigzag folding. It takes a mere 20 seconds or so for the roof to unlock and fold back neatly beneath a protective cover.
Its rear wing emphasizes the lines of this model, which is 2.36 inches wider than that of the 911 Carrera. The Carrera 4S Cabriolet borrows the characteristic light strip between the rear lights from the Carrera 4S Coupe.
The Turbo brake system of the new Porsche Cabriolet delivers outstanding deceleration values and is thus on par with the 911 Turbo. The perforated and internally ventilated brake discs with a diameter of 13 inches also play their part in the car's performance. Eighteen-inch light alloy wheels with tires measuring 225/40 on the front axle and 295/30 on the rear axle transfer the braking power to the road. This model, as well as the Turbo, can be fitted with Porsche's revolutionary ceramic brake system, Porsche Ceramic Composite Brake (PCCB).
The Carrera 4S Cabriolet comes with an extensive range of standard equipment. This includes metallic paint, full leather interior, a hardtop and wind deflector. It will be available beginning in October of this year starting at a Manufacturers Suggested Retail Price of $93,200.