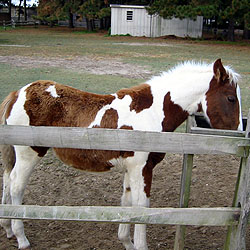 Ironwood Ponies - Ponies For Sale - top-of-the-line hunter/jumper ponies for sale or lease, ponies, hunter/jumpers, horses for sale, ponies for sale, welsh, ponies, pleasure riding, jumping, equestrian activities, equine sales, training, stables, horsenet, equine, Ironwood Ponies offers kid-tested and Mom-approved top-of-the-line hunter/jumper and pleasure ponies for sale or lease. Ironwood Ponies has sold many ponies throughout the United States. Most ponies have gone on to successful show careers, while others are loving family companions. Busy professional parents and trainers, who often do not have the time required to search for that perfect pony are Ironwood Ponies' usual clients. Having a pony that is safe and reliable delivered to the stable, with a week to try the pony, is a God-send for busy parents and trainers.
Heaven Can Wait ~ Equine Rescue - This Equine Rescue was started to help save horses/ponies from slaughter, and take in any unwanted horse/pony and find them new, loving homes once they are ready for adoption. Within these pages you will find a list & photos of horses/ponies which are presently available for adoption, and a page of former rescuees. You will also find information on how you can become an adoptive or foster home to one of these equines, volunteering and donations. I am sometimes very slow with updating this web page, so please check my "HCW Message Board" on a regular basis as I post new adoptive ponies/horses on there frequently
Personal Ponies A unique non-profit organization dedicated to providing disabled children with a Miniature Shetland Pony to love and care for completely without charge...our ponies are "gift horses" for special needs "kids" of all ages.
Pine Trails Ranch Pine Trails Ranch offers a safe and relaxed environment for children and adults to learn how to ride and care for horses. Pine Trails is a 20+ acre ranch with boarding facilities, lesson program, sale horses, and a rescue program for horses in need of a home. The training program is desgined to work with the horses and owners to find their strengths. Pine Trails offers English Hunter.Jumper, Dressage and Western lessons. There is a summer camp at: Pine Trails Ranch Summer Camp and a tack store at Everything Equine.
Kirkcarrion Highland Ponies - Small scale breeder of Highland ponies and member of Committee of Central Scotland Highland Pony Association. Information on the breed, contacts, stud profiles and more.
Exmoor Pony The Exmoor pony is the oldest and purist of the British native pony breeds. The ponies have roamed the bleak, open moors of southwestern England, known as Exmoor, for centuries. They are believed to be the direct descendants of the horses that walked onto Britain before it was an island. Archaeological evidence dating back over 60,000 years bears an uncanny similarity to the Exmoor Pony of today.
The Ponies on Assateague - There are several local legends about the origins of the ponies on Assateague. The most popular is that the ponies swam ashore from a Spanish ship that had run aground, while another story has it that they came from a wrecked ship that had been on its way to the English colonies.
British Dressage The Dressage Group of The British Horse Society was formed in 1961 with a total of 123 recorded members. Dressage fixtures for 1962 amounted to 8 competitions. In 1997 the membership stood at 9,000 with more than 5,000 horses registered and over 700 affiliated competitions being held. In January 1998 The Dressage Group became independent from The British Horse Society and was set up a non-profit making company, British Dressage. British Dressage is a full member of the British Equestrian Federation.
Pony Club Canada The Canadian Pony Club is an organization run by volunteers for young people up to 21 years of age who are interested in riding, learning about, and/or caring for horses or ponies. We have over 4000 members in about 180 Branches from coast to coast in Canada.
EquiSearch Information services for equine professionals
Exmoor Ponies The ancestors of our present ponies evolved in an ice age about a million years ago. Fossil bones have been found dating back a hundred thousand years to the tundra like conditions of the ice age, todays Exmoor Ponies being the only remaining breed to show the jaw development found in the fossilized bones. These ponies roamed the British Isles in pre-Celtic times and are mentioned in the Domesday Book, but unfortunately there are no early stud books of the breed. Nothing is recorded until 1818 when the last warden of the Exmoor Royal Forest, Sir Thomas Acland, drove some 20 of the ponies to his own land on Winsford Hill. The descendents of Sir Thomas's ponies, the main foundation of the breed and now numbering about 45, are owned by Mrs R Wallace. They still run on Winsford Hill and are branded with an Anchor which was the Acland brand. In 1818 the rest of the ponies on the moor were sold at the forest dispersal sale, fortunately some were bought by the ancestors of today's moorland breeders.
USCTA The USCTA, a non-profit educational organization, was founded in 1959 to promote and develop eventing throughout the country. The USCTA is committed to providing eventing enthusiasts with a competitive level suited to their individual skills. By assisting and educating competitors, event organizers, and officials; maintaining responsible safety standards; and registering qualified competitions and clinics, the USCTA offers a strong and continuous training opportunity for an ever-expanding field of world-class competitors. Just as importantly, the USCTA provides a means for all riders, regardless of age or ability, to experience the thrill of eventing.
What is Combined Training or Eventing? Combined Training, or eventing as the sport will now be called internationally, is the triathlon of equestrian sports, incorporating the disciplines of dressage, cross-country jumping and show jumping. Riders compete at all levels of competition from novice through the advanced and Olympic levels.
Farmore Farms Welsh Ponies Welcome to Farmore Farms Welsh Ponies, home of Section B Welsh Ponies and half-Welsh Hunter Ponies. Here you will learn about our Welsh Section B stallions, our broodmares, many of the young ponies we have for sale, and a few of the ponies that have the Farmore pedigree.
Larken Farm - We are a small family farm located on California's central coast. Driving is our main interest. We have both Section A ponies and Section D cobs, including two Section D Stallions standing at Stud. We train and show all of our ponies ourselves and believe strongly in breeding for a good disposition. The photo above shows our 3-year-old son riding Larken Debut, one of the first ponies we ever produced. Our ponies have also been shown in-hand and driven as singles, pairs, tandems, unicorns and fours winning many championships over the years including the Four-in-hand division championship at the 1995 Santa Ynez Carriage Classic. We occasionally take in ponies for training. If you are interested in driving or have any questions for us, we would love to hear from you.
North East Junior Riders Online - A site dedicated to Junior Riders in the Northeastern USA. Frequent updates, e-mail list, messageboard, extensive links list and equine info
HoofPix Sport horse photography
South Africa's Equestrian News Network Includes information on South African riding schools, shows/results, horse care, and classifieds
HorseQuest.com the Comprehensive Internet Horse Resource. HQ offers viewers resources for all their equestrian needs. HQ includes features such as Horses for Sale, Stallions Standing, Bulletin Boards, Photo Contest, On-line magazine and more
Connemara Ponies - Old fashioned pony type with lots of bone and substance - lovely pony head - superb temperament
Pampered Ponies Ltd. First Class, Professionally trained Big & Beautiful Horses.
Walk, Trot, Canter the beaches and beach trails of Grand Cayman
National Chincoteague Pony Association The National Chincoteague Pony Association, is the oldest Chincoteague Pony Registry. Founded in the mid 80's its main purpose is to improve and promote the breeding of the Chincoteague Ponies. To make rules for the registration, to maintain a trustworthy accepted Stud Book for the reg. of the Chincoteague Ponies and registering the pedigrees/transfers of ownerships. The ponies are recognized as a pure and rare breed. A well established Breeding farm for the Chincoteague Ponies , located in Bellingham, Washington, insures a pony for the right person. All are invited to join the association. It is not necessary to own a Chincoteague Pony to join.The association is a non-profit organization.
Pony Club International Millennium Conference
Pony Club USA Pony Club is a not-for-profit, volunteer, educational organization dedicated to teaching young people riding and care of horses and ponies. Pony Club is an international movement that began in Great Britain in 1928. Today Pony Club is in 42 countries, with an estimated total membership of over 130,000 world-wide. The United States Pony Club -- USPC -- began in 1954 with 18 clubs. Two of those original clubs are in our region! Our 16 clubs are part of the 602 clubs and 12,205 individual members who make up the United States Pony Clubs.
Pretty Ponies UK Colour Co-ordinated Showing Accessories for Children & Adults Let us lead you into the Millenium with our exciting range of riding apparel !!
Rainbow Farm Unltd Sport horses and ponies for sale
Sugarbrook Farm Producing fine quality Hunter/Jumper ponies for the A Circuit. Beautiful performance ponies for sale.
Family Partners Welsh Ponies & Cobs Producing Quality Ponies for Performance, Breeding and to Love!
Family Partner's Welsh Ponies Producing Quality Ponies for Performance, Breeding and to Love!
Wellington-Winter Equestrian Festival - We are a site to serve the horse community and industry that makes their winter home in Wellington, FL to show at the Winter Equestrian Festival and the Dressage Shows. There will be a comprehensive directory to locate the trainers and farms that are here and also a significant listing of horses for sale in the Wellington area giving potential buyers the ability to go directly to the horse's agent. For those on Holiday it will be a great resource of local businesses to serve them.
Phoenix Farm - Has many great and susscesful horses for sale. One site visitor says: "I think Phoenix Farm is so great that I added them to my favorites. I like Phoenix Farm so much that if I saw a horse that I was going to buy I would have it shipped to Michigan from Washington state! I really trust Phoenix Farm!"
Pacific Moon Equestrian Center - Pacific Moon Equestrian Center is located on 51 + acres and offers a world class facility. Pacific Moon offers top quality horses for sale. Visit the site or contact Karen Moore to find the perfect horse for you.
Pony Club Corner - Find out about the USPC!
Dreamhorse - A really good site that has a great sales list of hores and ponies
Big Eq Net - This is a great site for the horse show enthusiast, complete with a Pony Zone!
Lochinvar Farm - Home to Nat'l Champion Section A and C Welsh ponies. Come stop by and see our web-page.
Heavenly Pony - Breeders of section A' and B' registered Welsh Ponies. Many champion and imported bloodlines. Young stock for sale, history and pictures included in the site. Over 30 ponies currently listed!
Pantygwreiddyn Stud - We are a small stud located in the valleys of South Wales. We have two stallions at stud - Tynyfid Brenin & Cwmtawe Kirk. We specialise in breeding of carriage horses though our stock are suitable for all spheres of equine activity generally associated with the Welsh Cob.
Solstice Web Cobs - Home of the Minyffordd Megastar.
The Welsh Pony & Cob Enthusiast's Websites - The Welsh Pony and Cob Enthusiasts Website. With details of various Studs, Breeders etc, together with LOTS of pictures of the Wonderful Welsh Ponies and Magnificent Welsh Cobs.