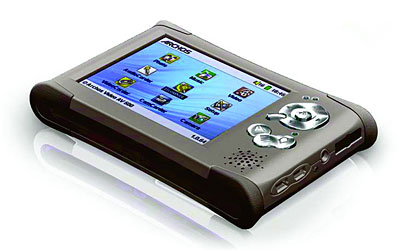 The Archos Pocket Video Recorder AV400 is the industry's first and only portable digital video recorder with television recording and scheduling capabilities, and audio, photo, and data storage in one pocket-sized device.
The experience starts in the living room where you can record television shows and movies directly from a TV, VCR, or cable/satellite receiver with a convenient one-time set-up TV Cradle. At the same time, the unit takes personal entertainment enjoyment far beyond the living room, where consumers can watch videos and view photos on a large color LCD screen, listen to and record music, and transfer photos from a digital camera and data files from a PC or Macintosh.
The pocket video recorder was designed with consumer ease of use in mind and presents many new features unseen in a portable video player, including a sleek and small design, 20-gigabyte to 100-gigabyte hard disk capacity, removable battery for extended life (20-gigabyte version), one-time set-up TV Cradle, an external speaker for enjoying music and video without headphones, best video playback quality, and a built-in Compact Flash reader for transferring photos directly from digital cameras. These new features make the AV400 a uniquely powerful device, yet slim, light and easy to use.
"While companies are focusing on music-only players, or developing first-generation portable video players, Archos is steps ahead with pocket video devices that put all a consumer's personal media in their pocket," said Henri Crohas, Archos chief executive officer. "With our new line of products later this year, we plan to provide consumers a way to secure their digital content and are engaged with Microsoft to support its new version of Windows Media Digital Rights Management, when it is broadly available. Archos' AV line of products are very robust in terms of both meeting consumer expectations and addressing industry trends, which ensures Archos remains at the forefront of this growing portable video player market."
To be placed on or near the TV set, the TV Cradle is a docking station for the AV400 that allows you to record directly from a TV, VCR or cable/satellite tuner. Once the TV Cradle is connected to the TV, VCR or cable/satellite receiver for the first time, you will not have to reconnect the cables again, just dock the AV400 and you are ready to record or view your files on the TV.
The AV400 Recording Scheduler directly controls the tuner inside your VCR or cable/satellite receiver to automatically adjust the channel and record based on the time and duration of the schedule. Further, the AV400 Scheduler will synchronize with Yahoo TV Guide (where available) from the Internet so you can prepare your recordings for the week or month in advance.
The new portable video recorder allows you to:
Record and Play Back Video: Record between 80 and up to 400 hours of TV programs and video content, or between 40 and up to 200 full-length movies in MPEG-4 video, at DVD quality and with CD quality stereo sound. Listen with a built-in speaker or headphones.
Schedule Video Recording: Program recordings using the Recording Scheduler, which directly controls the VCR or set-top box tuner to schedule and automatically record TV programming.
Enjoy a Large, Color LCD Screen: The AV400 features a high-resolution, 3.5-inch or 3.8-inch color LCD screen or view directly on a TV, PC, or other video output device.
Record and Listen to Music: The newly designed music player lets you record between 300 and up to 1500 hours of music, with playback in MP3, WMA or WAV formats using a built-in speaker or headphones. The Archos ARClibrary software automatically tags tracks for easy viewing and organization.
Store and Manage Photos: Store and view hundreds of thousands of JPEG photos on the AV400, and view as a slide show. Instantly transfer photos from computers using USB 2.0 or from memory cards using the built-in CompactFlash reader. The Pocket Video Recorder AV400 can also support SD, MMC, SmartMedia, Memory Stick or Memory Stick Pro thanks to the optional 4-in adapter.
Record and Listen to the Radio: The FM Radio & Remote Control (optional accessory) transforms the AV400 into an FM radio with full MP3 voice recording capabilities, while the Archos patented retro-recording system saves the entire song from the start, even though it has already started playing.
Take Documents and Files on the Road: The AV400 is seen as an additional drive on your computer and can store any computer file using the USB 2.0 (USB 1.1 compatible).
Additional Advanced Features: Personalize your screen background with favorite photos, edit movies on the device, organize photos in thumbnail view, and manually set a bookmark during a movie or video to return to the same place, even if the device has been turned off. The AV400 also will be compatible with Microsoft's Windows Media Player 10 and Portable Media Center devices.
Leading with the 20-gigabyte and 80-gigabyte models, the AV400 series will be available in stores worldwide beginning the first week in July and are priced at $549.95 and $799.95, respectively.
Archos develops pocket-sized audio and video digital media solutions for mobile consumers.