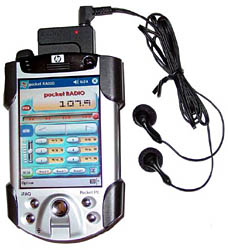 iBIZ today began shipping the industry's first FM pocket radio for PDAs.
"We are pleased to provide an FM Radio Compact Flash Card and SD stereo card that is plug compatible for both Pocket PCs and Palm Pilots," commented Ken Schilling, iBIZ President and CEO.
The Pocket Radio Card converts a standard PDA into a high-quality FM tuner. The feature-rich software provides up to eighteen different preset stations, search and seek functions, and the ability to output the signal to either headphones or external speakers. An Auto Scan feature even allows users to tune into new stations while traveling.
"Handheld computer users can now listen to local FM radio stations anytime, anywhere while performing other tasks on the handheld simultaneously," commented Ken Schilling.
The Pocket Radio FM PDA Handheld works with iPAQ, Dell Axim X5, Toshiba e740, Toshiba Genio e550, HP Jornada 560 Series, Casio Cassiopeia E-125, E-200, Compaq Aero 1500 series, Audiovox Maestro, NEC Mobile Pro P300, UR There@migo 600c, Mitac Mio 528, Fujitsu LOOX 600, ASUS A600, Acer n20, Pocket PC using MIPS, StrongARM or Intel X-Scale processors.
The SD unit works with Palm m125, m130, m500, m505, m515, i705, Tungsten-T, Tungsten-W, Handspring Treo 90 (with Handspring SDIO patch installed).