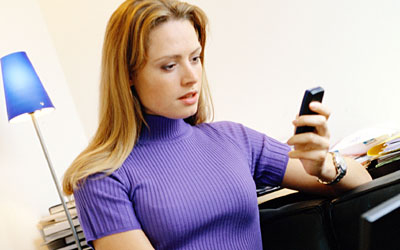 FoneBlog, the latest craze for mobile phone users, is now available to all O2 Ireland customers. FoneBlog enables users to simply create and run their own personal web site directly from their camera phone.
By sending text and picture messages to 53663, users can now instantly share pictures, videos, sound clips and texts with friends, family and internet visitors. Already Irish "FoneBloggers" are creating websites showing holidays, sporting events, work stories and real life experiences. Each FoneBlog user has their own unique phone blogging personal website that can be viewed from any PC or mobile phone.
The blogging phenomenon has taken the world by storm over the last two years with millions of blogs or web logs created on topics as diverse as travel to politics to family events. With the massive success of Camera Phones, FoneBlog is bringing this hottest craze to the mobile phone user.
"Camera phone users are looking for new and exciting ways to use their phones. FoneBlog gives them their own personal website so they can send their pictures and share their views and experiences with people throughout the world," said marketing manager Carol Clavin.
Create your own phone blogging website with a single Text Message
Getting a FoneBlog website is easy - just send a text or picture message to 53663 or register from your PC or WAP phone.
FoneBlog is currently only available to O2 Ireland customers, and the first 30 days is free. Thereafter it's only EUR2.50 per month.
FoneBlog is a service developed by NewBay Software. NewBay develops software to enable mobile phone users to easily create and run websites. NewBay sells its FoneBlog software system to mobile phone operators worldwide enabling them to increase revenue, customer loyalty and internet data services.