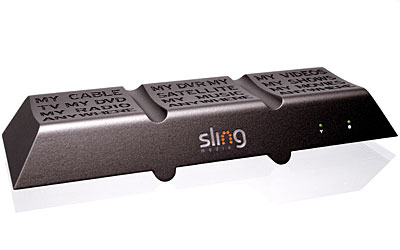 The Slingbox Personal Broadcaster is a consumer electronics device that enables a consumer to watch their live TV programming from wherever they are by turning virtually any laptop or Internet-connected device into a personal TV.
The Slingbox redirects, or placeshifts, the TV signal from any cable box, satellite receiver, or personal video recorder (PVR) to a viewer's location and device of choice, whether in another room in the home or anywhere in the world with a high-speed Internet connection. An elegantly designed compact box that fits neatly into a user's existing TV setup, the Slingbox will retail for $249 with no additional monthly service fees. The product is due to ship in the first half of 2005.
"Sling Media is taking the television viewing experience to the next level by placeshifting your TV. The Slingbox picks up where timeshifting technologies leave off," said Sling Media CEO Blake Krikorian. "Best of all, the Slingbox is designed to embrace, not replace, the consumer's existing infrastructure."
At launch, the Slingbox is capable of placeshifting a single, live TV stream to the owner's laptop or desktop PC of choice. The company also plans to provide downloadable software for PDAs and smart cellphones, as faster wireless networks become available to support a high-quality, TV-like viewing experience.
"The idea of placeshifting TV is the next logical evolution after timeshifting -- the last notable advancement in TV, popularized first by VCRs, and now by TiVo and other PVRs," said IDC analyst Randy Giusto. "Placeshifting, however, has the potential to create even more value for the TV industry by increasing viewers and boosting advertising reach."
Blake Krikorian first envisioned the Slingbox while frustrated by being unable to view his subscription TV programming and services when away from home. "Like many business and mobile professionals, as well as sports fans, I love TV, but spend a good chunk of my time in locations other than my living room. I looked into subscribing to additional Internet-based video services, but nothing met my needs since they only provide a subset of the TV experience I already received at home. Also, the idea of paying multiple times for the same programming didn't make sense," Krikorian said. This inspired the creation of Slingbox.
"Convergence should mean the stuff I have works together better than when separated. That's the path we're following, starting with TV, the most important medium in popular culture," Krikorian said. "Our main goal at Sling Media is to enhance today's digital lifestyle with products that bridge the gap between what technology makes possible and what consumers want or need."
Early in its existence, Sling Media struck strategic relationships with Microsoft and Texas Instruments, enabling the company to build a low-cost, high-quality, and versatile product. Under the hood, the Slingbox is powered by a high-performance digital signal processor from Texas Instruments. The live TV streaming system leverages Microsoft's latest Windows Media technologies. In addition, Sling Media implemented its proprietary stream optimization technology, code-named Lebowski, to enhance the consumer viewing experience over a wide range of networks and devices.
Sling Media enhances existing products and standards with hardware and software to improve the consumer experience.