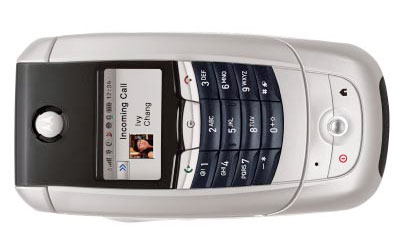 The new Motorola A780 is a converged device that offers the speed of EDGE technology coupled with the open, flexible environment of Java and Linux to deliver the ultimate handset for both work and play.
The PDA phone is designed to offer a rich end-user mobile experience that includes intense mobile office connectivity plus multi-media entertainment. It combines the ideal features of a mobile phone with the capabilities of personal digital assistant (PDA), digital camera, video player, and MP3 player packaged in one compact device featuring a brilliant 240x320 color touch screen and quad-band technology.
To support the business-side of life, the A780 harnesses the power of EDGE which offers increased efficiency and network speed (up to three times faster than wired dial-up), enabling consumers to download more content, faster. It features Bluetooth wireless technology to allow for virtually instant wire-free connection between devices and the MOTOSYNC over-the-air synchronization solution for hassle-free coordination of corporate e-mail, calendar and contacts.
Built on an open Java + Linux platform, the A780 can also accommodate the coolest applications from games to productivity tools. Motorola launched the world's first handset built on Java + Linux, the A 760, last year. The new A780, along with the recently released E680, further the company's commitment to making the Linux operating system a key pillar of its handset software strategy.
"As consumers' work, home and social lives continue to converge, they need a device that will help them move seamlessly from one world to the next," said Rob Shaddock, corporate vice president and general manager, GSM/TDMA Products, Motorola, Inc. "The Motorola A780 provides that link by delivering on all fronts -- as an office companion, entertainment source and design icon. The ability to view Microsoft Office applications, manage schedules and contacts via MOTOSYNC, capture and share streaming video and utilize groundbreaking EDGE and Bluetooth wireless technologies make the model A780 a true must-have."
Viewing PDF attachments, as well as Microsoft Word, Excel and PowerPoint documents, is simple and convenient with the model A780's integrated document viewer. Surfing the Web with the full-html browser makes content look simply amazing on the large TFT color touch screen. And an easy-to-navigate user interface, built-in speakerphone and speaker independent voice dial provide even more mobile convenience.
Global entertainment is also made easy with features like built-in 1.3 mega pixel camera, video recording and playback, integrated MP3 player with enhanced sound and up to 48MB of removable TransFlash memory as well as multi-media messaging service (MMS) for sharing video, animations, photos and music with family and friends.