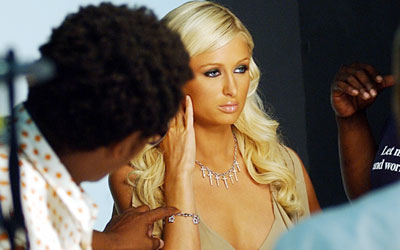 The Paris Hilton jewelry collection is available exclusively at Amazon's Jewelry Store. In the online store's special Paris Hilton Boutique, customers can see photographs of Hilton wearing the designs and detailed product images and descriptions.
"I grew up surrounded by the finest fashion and jewelry designs, and I really wanted to create a line that was beautiful and very high quality, yet affordable and available to everyone," said Paris Hilton. "Amazon is the perfect place to launch the line because customers everywhere can shop for it -- whether they live in Los Angeles or New York or a very small town. This jewelry is for the heiress in everyone."
The 10-piece collection includes necklaces, earrings, a charm bracelet, an ankle bracelet, a belly chain and a belly bar. Priced from $15 to $95, the designs are crafted from the highest quality sterling silver and set with Swarovski crystals. The line is inspired by Hilton's personal style -- feminine, flirtatious and glamorous -- with heart, star and cross motifs.
"The Paris Hilton Collection is a wonderful addition to the Amazon Jewelry Store," said Eric Broussard of Amazon. "The boutique on Amazon offers a blend of entertainment and shopping that customers can't find elsewhere, including beautiful images of Paris wearing the jewelry that could be from the pages of a fashion magazine, as well as a personal video message from Paris."
Renowned fashion photographer and artist Marc Baptiste created the images of Hilton wearing the designs that are now featured in the boutique. Behind-the-scenes video footage of the photo shoot is available for viewing, as well as footage of Hilton working in the design studio.
Every piece from the Paris Hilton Collection is delivered to customers in Amazon's signature midnight-blue velvet jewelry pouches, and includes a keepsake card with a note from Paris Hilton featuring her signature tiara logo. While shopping the Paris Hilton Boutique, customers can also purchase The Simple Life DVD and pre-order Confessions of an Heiress, Hilton's new book slated for release this September.
On the launch day of her new line, Hilton spoke to reporters from Miami, where she is shooting her latest movie, National Lampoon's Pledge This. Her other projects include a prominent role in House of Wax, a movie from Joel Silver, producer of The Matrix, and a debut CD slated for release this fall.