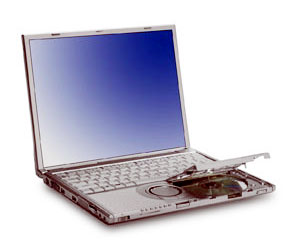 Panasonic today introduced the Toughbook CF-Y2, a slim, light, executive-styled notebook merging Intel's latest state-of-the-art mobile technology with the Toughbook line's legendary durability.
"The resounding acceptance of our T2 and W2 sub-notebooks by our traditional industrial customers, small-to-medium business users, and white-collar executives proves that there is a strong demand for a lightweight, compact, go anywhere, do anything notebook that won't fade to black the first time it is shaken or stirred," said Panasonic Computer Solutions Company president Rance Poehler.
"The Toughbook Y2 offers mobile professionals one of the most durable, technologically advanced slimline computers in the category today," Poehler continued. "Its large screen makes it a great desktop replacement, its 1600 x 1200 pixel external video resolution supports large-screen presentations, and its five-hour runtime means you can continue working while waiting for a connecting flight without having to squat on the airport floor next to an AC outlet and still see your DVD movie cross-country."
The Toughbook CF-Y2 has been designed to maximize Intel's latest Centrino system architecture and features a 400Mhz front side bus and 256MB of 333MHz DDR RAM (expandable to 512MB) It is the first notebook in its class to be powered by Intel's 1.3GHz CPU with 1MB of on-die L2 cache, .13 micron fabrication and enhanced SpeedStep technology. Ensuring high-performance over the long haul, Panasonic's power-saving technology delivers up to seven hours of runtime from the Y2's standard 52Wh, six-cell, li-ion battery.
Despite its light weight and compact form factor the CF-Y2 features a full 14.1-inch, anti-glare, TFT active-matrix color LCD with SXGA+ (1400 x 1050 pixel) resolution at 16 million colors. Based on Intel's 855GME Chipset graphics memory controller hub, the CF-Y2's video subsystem features 64MB of VRAM and supports external monitors at up to 1600 x 1200 pixels and 16 million colors.
The CF-Y2 is one of the first portable computers utilizing Intel's recently announced PRO/Wireless 2200BG network technology to support both 802.11b (11Mb/s transfer rate) and 802.11g (54Mb/s transfer rate) protocols. Other integrated connectivity options include a 10/100 Ethernet port, two USB 2.0 ports, and a 56K analog modem.
With its built-in 8x DVD-ROM, 6x CD-R, 4x CD-RW and 24x CD read industrial-grade combo drive, 20bit sound system and integrated stereo speaker, the Toughbook CF-Y2 provides superior multimedia capabilities in a light weight 3.3 lb. package.
Toughbook CF-Y2DWAZZKM Intel 1.3MHz Pentium M CPU, 14.1" SXGA+ TFT Active-Matrix Display, 40GB HDD, 256MB DDR RAM, internal DVD-ROM/CD-RW combo drive, 802.11b+g wireless LAN support, 100BASE-TX/10 BASE-T wired LAN, 56K analog modem. Estimated Street Price: $ 2,700.00