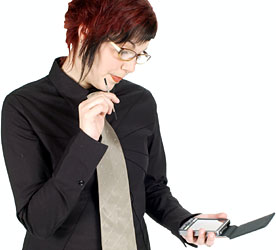 TomTom, a leading provider of personal navigation systems, today announced TomTom Navigator USA for Palm -- a cost-effective and flexible navigation system. Now you will never get lost again thanks to TomTom GPS, the industry's most comprehensive door-to-door personal navigation system.
"Mobile navigation is becoming increasingly important to our customers," said Anthony Armenta, director of software product management at palmOne. "The combination of the TomTom wireless GPS solution and a Bluetooth-enabled Tungsten handheld from palmOne makes for a valuable mobile GPS solution."
Transform your Palm into a powerful, accurate and reliable door-to-door navigation system. With TomTom, your Palm is a 3D color display pad for maps. Voice-guided instructions mean you can keep your eyes on the road. TomTom Navigator for Palm is based on the latest, most accurate turn-by-turn maps available from Tele Atlas.
"Bringing TomTom to the Palm platform represents a quantum leap in navigation solutions," said Jocelyn Vigreux, president of TomTom USA. "From a critically-acclaimed user interface to faster and more responsive mapping capabilities, TomTom now meets and exceeds Palm users' needs."
TomTom Navigator for Palm offers a highly accurate digitized roadmap system that works in conjunction with extremely precise TomTom GPS receivers, both wired and self-powered Bluetooth, providing an efficient navigation tool for business and leisure travelers alike. This combination offers the industry's most intuitive user interface with features and functionality that address all personal navigation needs in one comprehensive solution.
"We are excited to add TomTom Navigator for Palm to our product portfolio, as it fills a void in the navigation space that services a large segment of our customers," commented Rob Solow, buyer at J & R Computerworld. "Palm users represent a significant portion of our PDA customers and now they will benefit from the world-class navigation solutions that TomTom has created."
As always, TomTom offers complete solutions including the mapping software, PDA-specific car kits, and GPS receivers. The first solution will be for the Palm Tungsten T3 device. TomTom Navigator for Palm features all of the following:
Custom car kits allow you to simply click the glove fit cradle and GPS receiver into the car and always keep your Palm Tungsten charged.
Millions of points of interest including gas stations, airports, shops and amusements already loaded.
Maps of the entire United States on CD-ROM.
Major roads of the United States are included on a separate map. This feature allows you to plan cross-country trips without having to switch maps.
Voice guided route instructions.
Door-to-door navigation.
2D or 3D map presentation views.
Highly accurate TomTom GPS receivers, both wired and Bluetooth wireless, increasing navigation options for travelers.
Additional Palm devices will work with TomTom Navigator and will be announced in the coming months. TomTom Navigator for Palm is an excellent value for the price and an indispensable travel companion. The device screen can be used in landscape or portrait mode.
TomTom is a global provider of software for handheld computers and mobile phones. TomTom's products offer mobile users a range of innovative travel solutions. TomTom was founded in 1991 in The Netherlands and has offices in Amsterdam, London, and Concord, Massachusetts. The company's products are sold through a distribution network of top retailers in more than 15 countries.