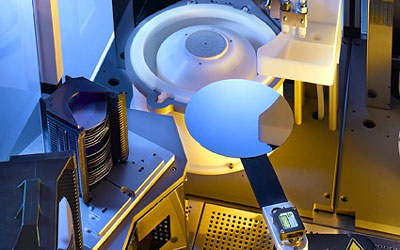 SUSS MicroTec has installed multiple lithography systems for XinTec's production line in Taiwan. The order includes two 200mm 1XFFL exposure systems (1X full-field lithography) and three 200mm Gamma80 clusters (coat/bake/develop). XinTec will use the systems for production of Shellcase's Wafer-Level CSP, one of the most efficient wafer-level packaging technologies available on the market.
SUSS' 1XFFL exposure systems are designed to align and expose the entire wafer in one step leading to a significant reduction of process cycle time. 1XFFL combined with the advanced technology of SupraYield dramatically increases technical performance while maintaining efficiency and an extremely low cost of ownership. The Gamma80 systems are efficient cluster tracks capable of employing leading technology for wafer coat/bake and develop processes while maintaining all the process flexibility for which SUSS has been recognized. SUSS is the world's largest supplier of systems for packaging lithography.
"We examined many exposure and track systems but we selected SUSS' microlithography solutions due to their superior performance and reliability for our manufacturing process," said Johney T.C. Lu, president and CEO of XinTec. "We will remain strongly committed to SUSS, based on their technology, yield and reliability and we appreciate the outstanding levels of local service they provide."
According to Dr. Franz Richter, CEO SUSS MicroTec "Selection by Xintec for its fab expansion is a very important achievement for SUSS. This is a "win-win" for both companies and demonstrates the significance of robust manufacturing systems for production of advanced wafer-level chip scale package technology. We are pleased with continued widespread adoption of our application specific 1XFFL lithography and cluster coating systems and with our customer focused teams in Asia."
XinTec is a pioneering company that provides advanced Wafer-Level Chip Size Packaging (CSP) technology, IC Packaging and a wide range of manufacturing services to the global semiconductor market.
SUSS MicroTec supplies production, process and test technology for the semiconductor industry, including coating developing systems, 1X full-field lithography (1XFFL) systems, substrate bonders, flip-chip bonders and probe systems.