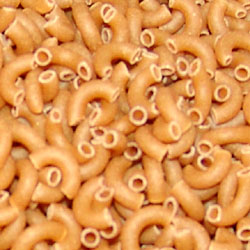 Convenient, great-tasting organic foods priced the same as conventionally produced products? Yes, it's very simple.
Simply Organic brand convenient, economical, premium organic foods, now available nationally at leading natural foods stores as well as at conventional supermarkets, give consumers new organic food choices without bankrupting their weekly food budgets. Simply Organic foods from Frontier, a leader in the natural and organic products industry for 25 years, include more than 50 organic selections that are comparatively priced with many of America's favorite conventional-food category leaders.
"Simply Organic brand foods are just that - simple and organic," notes Steve Hughes, chief executive of Frontier Natural Products Co-op, Boulder, Colo. "Because our Simply Organic foods are convenient and wholesome, consumers can feel good about choosing and serving them to their families. And since they're parity priced with conventionally produced foods, consumers now can make organic foods a part of their everyday meals, even if they've shied away in the past because of significantly higher prices paid for organic foods."
Hughes points out that sales of organic products have grown an average of more than 22 percent over each of the last 10 years, according to the Organic Trade Association. "Organic" is one of the fastest growing segments of consumer-packaged goods. Research reveals that, increasingly, consumers want to shelter their families from pesticides, additives and genetically modified foods. And, says Hughes, with the nation's new-found desire to return to a simpler, more authentic way of life, people are paying more attention to the role organics play in protecting the environment, promoting agricultural sustainability and supporting the family farm way of life.
And Simply Organic offers uncomplicated, delicious foods that are environmentally friendly and healthful too, because they're made with organic ingredients. Quality-conscious shoppers looking for foods with "less stuff" on ingredient labels can find Simply Organic foods right next to some of America's favorites, on shelf throughout the grocery aisles. What's more, shoppers can spot Simply Organic products quickly on supermarket shelves. The Simply Organic's distinctive packaging, complete with its symbolic sage logo, recently won a package design award from Graphic Design USA, a professional design magazine.
The new Simply Organic line includes:
4 popular, pasta and cheese boxed dinners - Simply Organic Macaroni & Cheese and Shells & Cheese, each in regular and family sizes
9 add-meat dinners - from hearty supper classics like Simply Organic Beef Lasagna, Cheeseburger Macaroni and Creamy Tuna Spirals to flavorful Tomato Basil Chicken and Chicken Alfredo
8 pasta and rice side dishes - Simply Organic Alfredo Pasta, Cheddar & Broccoli Rice, Herb Chicken and Roasted Garlic Noodle, and more
13 authentic and genuine everyday favorites in the Simply Organic Seasoning Mixes line, include a wide range of convenient flavor options, plus sauces and gravies, too - Simply Organic Garlic Pasta Sauce, Spicy Chili Seasoning, Fajita Seasoning, Sloppy Joe Seasoning, Sweet Basil Pesto Mix, Roasted Chicken Gravy Mix, Wild Mushroom Sauce Mix and a half-dozen more organic blends
16 Simply Organic Herbs and Spices, packaged in distinctive, French square glass bottles evoking an antique look - recipe favorites like Simply Organic Ground Cinnamon, Basil, and zesty Lemon Pepper and All-Seasons Salt
7 Simply Organic Baking Flavors include familiar ingredients - pure Almond Extract and Vanilla Extract in two sizes; zippy Peppermint Flavor; and tangy Lemon Flavor and Orange Flavor
And, up next from Simply Organic - dry salad dressing mixes and dry dip mixes, perfect for serving as is or as recipe ingredients to add extra flavor to favorite family dishes
Simply Organic foods are currently available nationwide at Whole Foods Market and other natural foods stores, as well as mainstream supermarkets such as Wegman's on the East Coast, Smith's in the Southwest, and Fred Meyers in the Pacific Northwest, with many more conventional supermarkets planning to carry the Simply Organic product lines right next to comparable, conventionally produced foods in their categories. For their nearest retailer, consumers can call the customer service line of Frontier Natural Products Co-op, the maker of Simply Organic foods, at 1-800-669-3275.
Simply Organic brand, from Frontier Natural Products Co-op, Norway, Iowa, is a family of certified organic foods Iowa, is a family of that provides consumers peace-of-mind and creative, convenient meal solutions - at everyday prices. New Simply Organic foods, available nationwide in conventional supermarkets and natural foods stores, include over 50 selections of boxed dinners, add-meat entrees and side dishes, seasoning mixes, culinary herbs and spices, and baking flavors. And that's just the beginning of a whole new way of thinking about food. Simply Organic - because there's too much stuff in stuff these days.