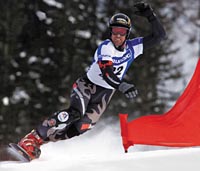 Many Americans are looking for ways to make this Valentine's Day more meaningful than giving cards, candy or roses.
Chris Klug, transplant recipient and Olympic hopeful, encourages the public to donate or pledge to donate blood, bone marrow or organ/tissue at participating Saturn retailers during National Donor Day on Feb. 14. United Auto Worker (UAW) partners and Saturn Corp. urge Americans to give the gift of life on Valentine's Day.
"Please consider celebrating Valentine's Day with donations," said Klug, who underwent a liver transplant in July 2000. "I'm living proof of how meaningful and precious the gift of life can truly be. It takes little time or effort to fill out an organ donation pledge card, donate blood or be added to the marrow registry, but the rewards are priceless."
The need for donation is great:
Over 80,000 patients currently await a life-saving organ transplant. Approximately 16 people die every day because not enough organs are available to meet the need.
Approximately 30,000 patients in the U.S. will be diagnosed with life-threatening blood-related diseases, like leukemia, but only one in three will find a bone marrow or blood stem cell donor match within their family.
Sixty percent of Americans are eligible to give blood, but only 5 percent donate.
"We believe National Donor Day is the largest annual one-day blood, marrow, organ and tissue donation drive in America," said Jill Lajdziak, vice president of sales, service and marketing for Saturn, an automotive manufacturer with 440 retail outlets in the U.S. "Thanks to the success of the past four years, Saturn has collected approximately 30,000 units of blood, added more than 6,000 potential marrow donors to the National Marrow Donor Program Registry and informed thousands of Americans of the urgent need for organ and tissue donors."