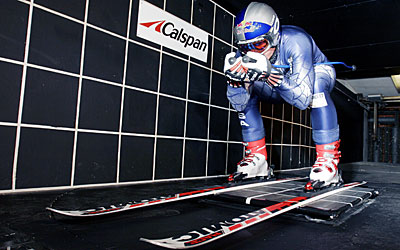 Calspan is helping the U.S. alpine men's ski team prepare for the upcoming World Cup season and the 2006 Olympic Winter Games.
USSA alpine program director Jesse Hunt and four team members Daron Rahlves, Marco Sullivan, Scott Macartney, and Steve Nyman will test their equipment and technique in Calspan's Low-Speed Wind Tunnel.
Wind tunnel program manager Dr. Michael S. Holden said the Calspan sessions are intended to provide aerodynamic training and equipment testing, measuring dynamic indicators of performance. "The skiers will test different types of uniforms, helmets, goggles, boots, skis, and poles. They will also work on making a better transition from a sharp turn into a gliding position and achieving a better high-tuck position. When a split second can be the difference between winning a medal and finishing as an also-ran, these athletes are looking for every advantage to improve their performance."
Calspan has provided similar training sessions for U.S. Olympic alpine ski teams - both men's and women's - as well as ski jumping, luge, speed skating, and skeleton, contributing to seven gold medals.
Olympic skier Picabo Street trained in the Calspan wind tunnel prior to winning a gold medal in the women's super giant slalom in Nagano, Japan in 1998. Olympic speed skater Bonnie Blair was aided in her gold-medal performance by training at Calspan. Olympic silver medalist and World Cup ski champion Bode Miller trained at Calspan in 2004.
The men's World Cup season opens October 23 with a giant slalom on the Rettenbach Glacier in Austria.
The USSA is the national governing body for Olympic skiing and snowboarding.
Calspan is part of the research laboratory of Curtiss-Wright.