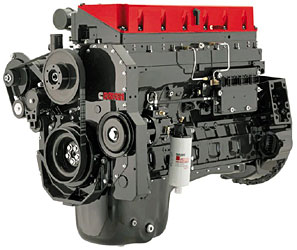 The first of the Cummins off-highway engines slated for the January 2005 emission standards was recently certified by the Environmental Protection Agency (EPA) as compliant to the Tier 3 standards for Oxides of Nitrogen (NOx) and Particulate Matter. Cummins is the first manufacturer to receive a Tier 3 Certificate of Conformity from the EPA.
"With the EPA certification of the QSM off-highway engine, Cummins continues its commitment to clean air with another first. Cummins builds on its track record of delivering to both our customers and our commitments with this achievement," said Bharat Vedak, Cummins Vice President - Industrial Customer Engineering. "Cummins significant investment in the right technologies has enabled our success in meeting regulations ahead of schedule."
In June of 2002, Cummins declared that its approach for meeting these Tier 3 emissions requirements would be an in-cylinder solution and true to its word, has achieved this first with the QSM and expects the rest of its Tier 3 product line to follow suit.
"We are committed to providing our customers solutions that drive the lowest possible installation impact at the lowest possible cost," said Jim Kelly, Cummins Vice President and General Manager MidRange and Heavy Duty Engine Business. "Our basic principle in meeting emissions requirements is to help our customers navigate these regulation changes; regulations coming with shorter time intervals between them. We understand the unique challenges of off-highway applications and believe that we are not only in the leadership position for the 2005 standard, but that the Cummins Tier 3 architecture will extend into 2015 and Tier 4 with the addition of aftertreatment. This gives our customers the maximum possible platform stability in the face of coming requirements," he added.
Cummins met the challenge of the Tier 3 reductions by utilizing their extensive expertise in combustion research. "Our Tier 3 engines will have an in-cylinder solution that reduces NOx by 40 percent without the use of expensive external hardware. Economy and emissions reductions are two parameters that are generally in competition with one another but it's a great battle that we are winning," said Bharat Vedak. "With the certification of the QSM completed early, our development will focus on further improvements in fuel economy and reliability to exceed our commitments to customers," said Vedak.
The certified and compliant Cummins QSM11 Tier 3 will go into production in July, 2004 with its advanced in-cylinder combustion recipe and an identical footprint from its Tier 2 predecessor which minimizes any installation impacts for OEMs. The 11 liter six cylinder is rated from 290 - 400 hp and utilizes the CELECT fuel system with advanced electronic controls.
Cummins is a corporation of complementary business units that design, manufacture, distribute, and service engines and related technologies, including fuel systems, controls, air handling, filtration, emission solutions and electrical power generation systems.