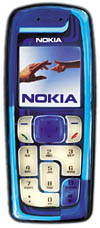 Nokia today introduced the expression category Nokia 3100 phone, a lightweight phone weighing less than 3.5 ounces, but with features and style designed to make a big impact. The combination of a color screen, MMS (Multimedia Messaging Service) functionality, Java technology and unique animated screensavers place the Nokia 3100 phone in the company of the most advanced phones on the market, while the compact form and special lighting effects make it among the most expressive. The tri-band Nokia 3100 phone (GSM 850/1900/1800) is expected to be available during the 4th quarter of 2003.
According to a nationwide poll, the most important factor in selecting a mobile phone is value, and when it comes to size, the majority of respondents replied 'the smaller the better'. At 4 inches long and under 3.5 ounces, the attractively priced Nokia 3100 phone boasts an uncommon combination of these two important factors. Additionally, the poll found that style and color was considered a critical factor for over 70% of the sample. With available user- changeable Xpress-on covers available in yellow, lilac, pink and pop blue, each accented with glow-in-the-dark highlights and a special Xpress-on active cover with embedded electroluminescent light effects, the Nokia 3100 phone brings exceptional customization options to these customers.
"Few phones can match the features, style and compact size of the Nokia 3100 phone. When you combine that with the value that this product delivers, the Nokia 3100 phone becomes an unbeatable offering," said Paul Chellgren, senior vice president of product management and business development for Nokia. "By offering the most advanced features across our wide range of wireless phones, Nokia is allowing the entire spectrum of wireless customers to take their lives mobile. The new Nokia 3100 phone is another good example of how Nokia is making this vision a reality."
A selection of new Nokia enhancements allow Nokia 3100 phone owners to realize even more functionality from their handset. The new Nokia Fun Camera is a stand-alone VGA camera with a built in flash and memory for up to 50 images that is easily connected directly to the Nokia 3100 phone, from where they can be sent and shared with friends and family around the world. Also available is the Nokia FM Radio Headset, which adds handsfree functionality and a stereo FM radio to the Nokia 3100 phone.
The integration of Java technology along with a color display, 4 way rocker control and optional Xpress-on active cover makes the Nokia 3100 phone especially well-suited to exciting game play. Pre-loaded Java games include Snake EX2, Bowling and Beach Rally. For additional excitement, a wide variety of Java games and other Java applications can be downloaded to the Nokia 3100 phone in just a few keystrokes.