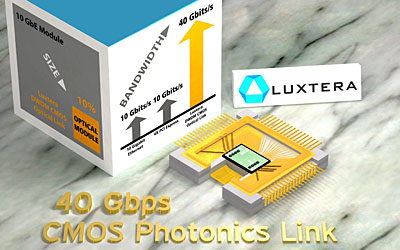 Sun chose Luxtera as a technology partner to develop high bandwidth, low latency dense wavelength-division-multiplexed optical interconnects to form the building blocks for future terabit links in Hero, Sun's high productivity computing systems program.
Sun and Luxtera is demonstrating a working 40Gbit/s optical link based on DWDM. The link exploits nanophotonic DWDM transceivers built entirely in a standard silicon CMOS production process using Luxtera's CMOS Photonics technology. Sun and Luxtera developed the link as part of their ongoing technology exploration.
"Silicon based photonics shows great promise for building balanced ultra scale systems such as those requested by DARPA under the HPCS program," said Sun CTO Greg Papadopoulos. "With Luxtera, we have a partner with the unique ability to integrate this level of performance in CMOS and with a technology roadmap that scales up to terabits of bandwidth on a single fiber with great reliability."
Luxtera's CMOS Photonics technology offers the massive scalability of DWDM implemented on a single silicon chip together with ultra-low latency, and it retains the reliability and cost structure of standard CMOS fabrication. These capabilities will enable Sun to create a new generation of powerful supercomputers that surpass conventional systems constrained by the limitations of copper interconnects.
"Our working relationship with Sun has been outstanding," said Luxtera CEO Alex Dickinson. "We have a partner that is committed to innovation and understands the importance of silicon photonics. Our DWDM-on-a-chip technology is now operating at 40Gbit/s, which is just the first milestone on a path that will deliver huge bandwidth using the natural scalability of DWDM."
Luxtera develops advanced silicon photonics.