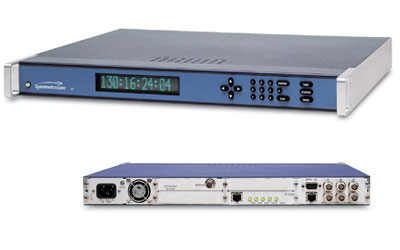 Symmetricom's XLi IEEE 1588 Grandmaster Clock with GPS reference uses a new protocol that enables very accurate synchronization over Ethernet LANs and for the first time, offers users the ability to synchronize clocks within better than one hundred nanoseconds accuracy.
"Symmetricom is the first to offer an IEEE 1588 based solution for time and frequency synchronization applications, and in doing so, will provide customer guidance in 1588 acceptance and verification testing, adoption and deployments during the infancy of this technology," said Paul Skoog of Symmetricom.
IEEE 1588 enables sub-microsecond time-of-day synchronization between clocks over standard Ethernet LAN infrastructure. Previously 1 to 10 microsecond time of day synchronization was the de facto standard using IRIG-B with dedicated coaxial cabling and 1 to 10 milliseconds was the typical accuracy using Ethernet and the Network Time Protocol.
As an increasing number of applications integrate Ethernet and the benefits of speed, flexibility and connectivity are exploited, IEEE 1588 is expected to be adopted as an enabling technology across numerous applications because it will change the way problems are solved. As performance requirements become more stringent, demand for more precise timing and synchronization via Ethernet is also expected to increase.
Boeing will deploy the XLi IEEE 1588 Grandmaster clock in a new network based test data system.
"The XLi IEEE 1588 Grandmaster Clock from Symmetricom, with its ultra-precise time and frequency synchronization capabilities over LANs, is a welcome addition to data acquisition networks," stated Sunderraju Ramachandran of Frost and Sullivan.