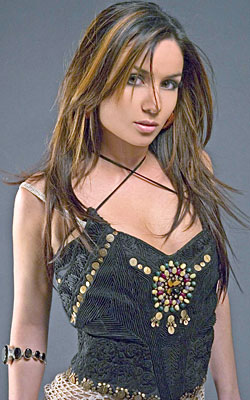 Latium/Universal recording artist Natalie, who released her self-titled debut album just yesterday, also has a new number one smash. Her second single, Energy, which features label mate Baby Bash, is the number one most added song at the radio's Top 40 format this week.
Energy is a mid-tempo track sure to make club-goers glide on the dance floor. The song was written by Natalie and Baby Bash, and produced by Happy Perez (Jadakiss, Trick Daddy, Master P) who created the magic melody for the super smash Suga Suga, which featured Baby Bash and Frankie J.
Natalie's first single, Goin' Crazy, debuted at number one on Billboard Top Singles chart and remained there for more than 6 weeks. The track also continues to hold strong in the Top 20 on Billboard's Hot 100 Chart. The New York Times raves she is an emerging Mexican-American pop-star and with her continued success at radio Natalie is proving to be just that.
Natalie has also launched her own collection with Zalia Cosmetics, the first line of cosmetics for Latin women. The collection, named after her single Goin' Crazy, will comprise of Zalia's unique olive-based products and Natalie will be making a number of in-store appearances to meet her fans and spread Zalia's More Than Beauty message while on tour.
Natalie is currently on the Latium Tour with balladeer, Frankie J, and ladies man, Baby Bash, through June. From May 19 through June 19, Natalie will tour Texas, Colorado, Wisconsin, Kentucky, New York, Pennsylvania, Virginia, New Jersey, and Oklahoma.