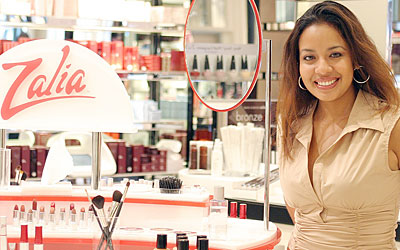 Zalia Cosmetics has announced a unique four city nationwide roll-out, making this distinctive makeup line of prestige cosmetics the first of its kind to go national.
The company has announced a major retail partnership with one of the world's leading beauty stores, that will drive the nationwide launch of Zalia Cosmetics. Victoria's Secret Beauty will become the first series of retail outlets to exclusively introduce the Zalia Cosmetics color line in key markets across the country. Zalia Cosmetics will be available at select Victoria Secret Beauty stores in Miami, Los Angeles, Dallas, and New York.
Miami, the epicenter of the nation's Latin community, will be the first launch market for Zalia on August 18, with subsequent launches in Los Angeles on August 25, Dallas on September 1, with the final stop in New York on September 8.
As part of its launch program, Zalia Cosmetics will be inviting consumers to experience the Zalia product line with free in-store mini make-overs by the founder, Monica Ramirez, and her team of talented make-up artists. This will be complimented with a unique nationwide grass-roots marketing campaign through a series of Latin-themed music and entertainment events at select shopping malls in each city. Monica Ramirez, Founder and President of Zalia Cosmetics, will make a personal appearance in each Victoria's Secret Beauty store for each of the scheduled launch events, along with her team of experienced make-up artists.
As a major inspiration to the Latin community, Monica commented on the launch: "We are so excited that Zalia's first entry into these test markets will be with Victoria's Secret Beauty, one of the hottest beauty retailers in the U.S., both from a consumer and an industry perspective. Zalia was created to celebrate the sexy, vibrant spirit and uniqueness of Latina beauty. More importantly, I want women to feel good about how they look and feel good about who they are and what they do."
The company has chosen New York, Miami, Los Angeles, and Dallas as key launch markets for the product line due to the large Hispanic population and high concentration of upmarket Latina consumers.
Khaled Haram, CEO of Zalia Cosmetics, and an ex-Estee Lauder executive for 10 years said: "The launch of Zalia at select Victoria's Secret Beauty stores represent a first step of growth for our Company. We will be looking to making Zalia available in more distribution outlets in the near future in order to service the beauty needs of Latinas in major metropolitan cities."
Sherry Baker, Executive Vice President, Chief Marketing Officer of Victoria's Secret Beauty said: "We are thrilled to offer Zalia Cosmetics in select Victoria's Secret Beauty stores. Victoria's Secret is increasingly becoming a total beauty destination, and Zalia will be a wonderful addition to our already strong color cosmetics portfolio. We feel that the expansive shade assortment and lively, energetic positioning will engage Victoria's Secret consumers."