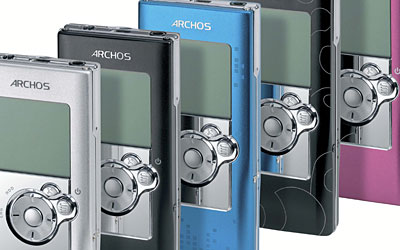 The Gmini XS 100 portable music player from Archos comes in a range of colors and with a significant 3-gigabyte hard drive and support for the Microsoft PlaysForSure program. The thin music player has a small form factor, four colorful options, and an entry-level price point that makes it affordable.
The Gmini XS 100 is the smallest player in the Archos line-up of portable audio and video products, measuring 3.6" x 1.7" x 0.5", and weighing only 2.8 ounces. The unit also features a 1.5 inch gray-scale LCD screen and a host of benefits for students and graduates this spring, including:
Colorful Casing: Select a Gmini XS 100 in Black, Pink, Blue or silver to match your style;
Easy Music Management: Use the Archos ARCLibrary to sort music by artist, genre, title and year, and rename, move, copy or delete files and make playlists directly on the device;
File Storage: Use the Gmini XS 100 as a standard storage device, as it is recognized as an additional drive when connected to the computer;
Icon-Based Navigation: Simple menus and a 1.7" gray-scale LCD screen;
Microsoft PlaysForSure Support: Purchase, download, subscribe or rent protected music content from PlaysForSure-compatible digital music stores;
Multiple File Formats: Store and enjoy up to 1,500 songs in a range of formats, including MP3, WMV, WMA and protected WMA music files;
Optional Accessories: Use an optional carrying case that connects to the belt, arm or slips around the neck, car chargers, and more.
Shuffle Playlists: Shuffle up to 1,500 songs or select a folder or playlist for random playback;
Stereo Connection: Connect the Gmini XS 100 to the stereo and play music around the house;
USB 2.0 Connection: Download content using a high-speed USB 2.0 connection;
Windows Media Player 10 Support: Automatic synchronization with Windows Media Player 9 or 10 for fast transfer of music;
"The Gmini XS 100 is an exciting new product from Archos, and complements our line of innovative portable video, audio and storage devices with something even more fun and extremely functional," said Henri Crohas of Archos. "The Gmini XS 100 is the perfect MP3 player for teens and active people who want to take their music -- whether recorded CDs, downloads or music services -- with them wherever they go."
Consumers can fill their Archos Gmini XS 100 with up to 1500 songs from their own CD collections or downloaded from the Internet. When available, the new Gmini XS 100 will be included in the Windows Media PlaysForSure program, where consumers can purchase tracks from several digital music stores, including MSN Music, Musicmatch, MusicNow, Napster and Wal-Mart Music Downloads. Microsoft PlaysForSure support ensures easy integration with Windows Media Player 10, the ability to play protected Windows Media Audio files, and access to streaming and downloadable content from PlaysForSure music services.
The Archos Gmini XS 100 will be available at retail and online beginning in June, 2005, and is priced at $179.95.
Archos develops digital portable entertainment solutions.