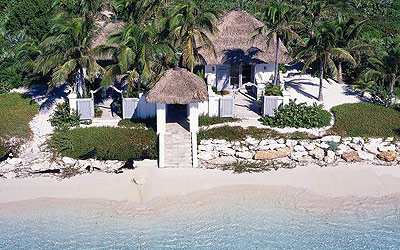 Musha Cay, frequented by A-list celebrities and CEOs, is customarily reserved for the exclusive use of one party at a time for up to 25 privileged guests. With the introduction of Musha Made to Order, an extraordinary new vacation opportunity being introduced this fall, as many as five separate groups of adults (from 2 to 10 in each group) can enjoy the island at the same time during the weeks of November 7-14 and January 30 - February 6. For the first time since Musha Cay's opening in February 2001, Musha Cay is renting each of its special houses separately instead of renting the entire island to only one individual and their guests.
Guests are invited to explore pristine beaches, luxuriate in colonial-style oceanfront villas, savor superlative Bahamian-fusion cuisine, immerse themselves in turquoise waters and let the Island's attentive staff tend to their every need. Want to be left alone? Raise your privacy flag. Care to sip champagne in front of a bonfire or picnic along a mile long sandbar? Simply summon one of the island's 37 friendly staff members who will be delighted to arrange it. Fancy snorkeling among coral reefs, a day of deep-sea fishing or a night of stargazing? On Musha Cay, there are no sign-up sheets, no waiting lists and no lines. This is your island and you can have it made to order.
"Our goal is to welcome new guests to Musha Cay at a very enticing rate," said Tom and Susan Lawson, Managers of Musha Cay. "We look forward to pampering our guests at every turn, while they do as much - or as little - as they desire."
Located just two hours off the coast of Florida in the Exuma Chain, Musha Cay offers a long list of attractions, beginning with sparkling white sugar-sand beaches and Exuma-blue waters in an unspoiled tropical setting. A staff of 37 caters to guests' specific requests - from a private flight to Nassau for a day of shopping to a moonlight sail or a special dinner prepared by the resort's acclaimed chef.
Musha Cay's countless other amenities include a free-form ocean-view pool, beachside fitness center with state-of-the-art equipment, indoor/outdoor massage rooms, championship lighted tennis court, deep-sea and flats fishing, water-skiing, windsurfing, unlimited use of the resort's sailboats, waverunners, runabout skiffs and 30-foot fishing boat, snorkeling and scuba diving . . . just to name a few.
During Musha Made to Order Week, each group of guests will be accommodated in one of Musha Cay's five luxurious, colorful villas: a 10,000-square-foot plantation residence, two beautiful two-bedroom villas and one fabulous five-bedroom guest villa with private beaches, as well as a very romantic beach cottage set apart on a silent half-moon beach. All are magnificently appointed. At Musha Cay, distinguished English Colonial style architecture blends perfectly into the tropical environment, while expansive terraces offer panoramic views of the sea and shore.
Located 85 miles southeast of Nassau, Musha Cay is a 40-minute flight from Miami or a three-hour flight from New York or Chicago by commercial or private jet to nearby Mosstown, Great Exuma. From Great Exuma, it is a 15-minute charter flight to Musha's private runway.
Special rates for Musha Made to Order range from $9,600 to $40,000 per couple based on occupancy. Rates are all-inclusive, including meals, wines, liquors, and unlimited usage of all island amenities.
For reservations and information, visit the Musha Cay website.