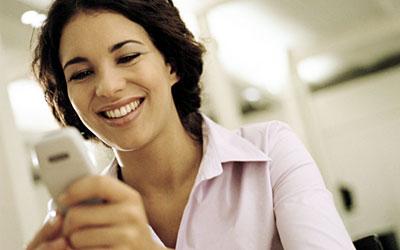 Qualcomm today announced the introduction of CMix, a new handset messaging technology based on the Company's market-proven Compact Media Extensions (CMX) multimedia software. CMix, a unique messaging program based on the CMX 3GPP2 standardized solution, equips wireless subscribers with the ability to simply and artfully create their own unique greetings to send from one wireless phone to another. Following in the footsteps of multimedia messaging -- a key driver for 3G -- CMix helps foster the growth of mobile messaging, spurring the evolution from today's text-based service to the multimedia applications environment.
Today, the CMX solution provides content providers with the ability to create a variety of content-inclusive MIDI-based music, text, graphics, animation, speech and sound effects, and combines them in a time-synchronized manner that can then be multiplexed in a file format small enough for playback on wireless handsets. The CMix technology -- based on the same fundamental principles as CMX -- offers wireless subscribers the ability to select from a library of preset applications available on the handset; add a personalized picture from their camera directory; create their own text or voice message; then combine these elements to send out their own unique greeting encased in the CMX standardized format and delivered via traditional messaging services.
eMbience will be one of the first developers to use CMix in its development of applications using Qualcomm's BREW solution.
"Picture mail is already a very popular feature for wireless subscribers today. CMix provides an effective technology to take the personalization of multimedia applications to the next level," said Luis Pineda, vice president of marketing and product management for Qualcomm CDMA Technologies. "Offering the ability to take a picture, then add MIDI-based music, record a personalized message either verbally or textually, and have it all play back concurrently in one single message adds a new element of communications for consumers and additional revenue opportunities for operators."
"We have been working closely with Qualcomm in extending the functionality of CMix and will offer a BREW-based application that fully optimizes and enhances the basic functionality of this platform," said Dr. Nimish Shrivastava, president of eMbience. "Our goal is to enable consumers to download both retail and custom-made images and animation to their handsets, and further personalize their mobile greetings and ringers."
Qualcomm's CMX solution, fully integrated with the Company's Mobile Station Modem (MSM) chipsets, enables wireless devices to project voice, music, text, graphics and animation simultaneously with capability for 72-polyphony, 128-instrument music. The CMX solution is part of Qualcomm's Launchpad suite of technologies, which encompasses advanced multimedia, connectivity, position location, user interface and removable storage capabilities.
Qualcomm's chipsets include access to Qualcomm's BREW solution. The BREW system enables the development and monetization of advanced applications and content, allowing operators and OEMs to differentiate their products and services and increase revenues. Qualcomm's chipsets are also compatible with the Java runtime environment; J2ME can be built entirely on the chipset as an extension to the BREW solution.
eMbience builds and publishes innovative productivity tools, information and entertainment applications, and games for mobile phones using the newest wireless software technologies, including Qualcomm's BREW, J2ME, Symbian and WAP.
Qualcomm develops and delivers innovative digital wireless communications products and services based on the company's CDMA digital technology.