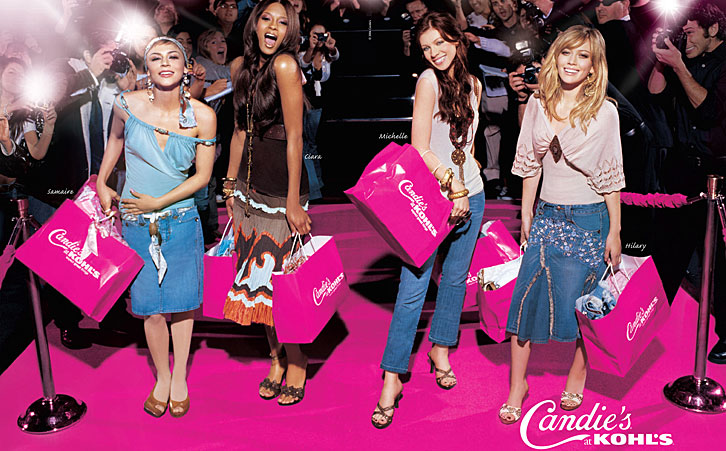 The spring television and print advertising campaign for Candie's will feature four celebrities: Singer, actress, megastar Hilary Duff; Grammy nominee Ciara; and actresses Michelle Trachtenberg and Samaire Armstrong. This is the first time the brand has enlisted four stars to appear in an advertising campaign. Past Candie's spokespeople include Destiny's Child and Kelly Clarkson.
Hilary, Ciara, Michelle, and Samaire are all unique in their talent as well as their style. Mixing the four girls in an advertising campaign was the ideal way to showcase all of Candie's product categories which are available nationwide exclusively at Kohl's Department Stores. This spring, Kohl's will also launch Candie's Home, Swim, and Sunglasses.
The multimedia advertising campaign of print, television, internet and in-store will debut in March issues of fashion, entertainment and lifestyle magazines. The soundtrack to the television commercial is Hilary Duff's song SuperGirl off her current CD, Most Wanted.
Commenting on the new ads, Hilary Duff said: "When you see the Candie's ads, you can envision yourself with your friends having a great time."
"Any girl can wear Candie's" added Ciara. "Someone may relate to me or Hilary or Michelle or Samaire, but what is great is that no matter what her style she will relate to one of us. That's what makes it so real."
Michelle Trachtenberg said: "Candie's girls are young, fun, stylish, and smart, because when you wear Candie's you know you look good."
"Candie's means flirtatious and that comes through in the collection," said Samaire Armstrong. "The clothes and accessories are very well designed and the quality is fantastic."
Iconix CEO Neil Cole stated: "Bringing together the hottest young stars of Hollywood in one ad campaign is an excellent way speak to young women, who may identify with one or more of the stars. Kohl's has embraced our brand and we are thrilled with the response to Candie's at Kohl's."
Kohl's President Kevin Mansell explained: "Because the launch of Candie's has been so successful, it will now span several categories in our home department this spring. We are confident that the latest celebrity-driven, high energy marketing program, combined with great fashion and in store graphics will continue to resonate with young shoppers."
The campaign was created by the Iconix in-house marketing team and shot and directed by Moshe Brakha. In the coming months, Hilary Duff, Ciara, Michelle Trachtenberg, and Samaire Armstrong will be integrated into the Kohl's spring marketing campaign.
Iconix markets and licenses a variety of apparel and fashion products.
Kohl's operates 732 stores.