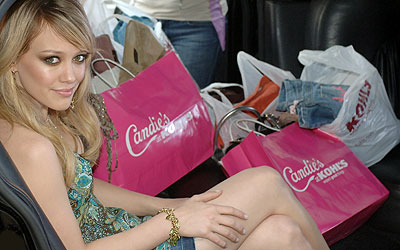 Fall television and print advertising campaigns of Candie's will feature Hilary Duff. Hilary has become a music, film and television phenomenon. With more than twelve movies and television shows and selling more than twelve million albums, Hilary will appear in the company's fall campaign to launch the junior brand of apparel exclusively at Kohl's 670 department stores.
Commenting on her new role, Hilary Duff stated, "I am so excited to be the new Candie's girl. There have been so many great people that have done Candie's ads in the past, and I feel like I am in good company with a lot of really cool people."
Neil Cole of Candie's stated, "Hilary is the perfect Candie's spokesperson. She is one of today's most recognized stars. Her image mirrors the Candie's girl, she is fun, confident and has a great attitude. We are excited to be partnering with this smart and talented young lady."
"Hilary embodies the fun, trendy spirit of the Candie's brand as well as the fashion and family focus of the Kohl's brand," said Kevin Mansell of Kohl's. "We are confident that the apparel offering coupled with the advertising campaign will resonate with today's young shoppers."
Added Hilary Duff's business partner Robert Thorne, "While Hilary continues to be first on the list of so many great brands looking for the best celebrity endorsement opportunities, we have been extremely selective in choosing partners such as Candie's whose product Hilary believes in and who provide opportunities supporting Hilary's film, television, and music careers."
The campaign was created by Candie's in-house marketing team and shot and directed by Moshe Brakha. The television commercial is a fast paced, music driven spot.
In the coming months, Hilary Duff will be integrated into the marketing launch of Candie's at Kohl's.
Hilary was recently named one of People Magazine's 50 most beautiful people and one of Teen People Magazine's hottest stars under 25. Hilary is currently filming a new movie, Material Girls, also starring her sister Haylie, and this upcoming summer will be Hilary-mania with her new movie A Perfect Man co-starring Heather Locklear and Chris Noth hitting theaters on June 17, a new single releases in June, and her latest album will hit stores August 16. And if that was not enough, Hilary will also be launching her Still Most Wanted North American arena tour this summer.
Candie's licenses the Candie's, Bongo and Badgley Mischka trademarks on a variety of footwear, apparel and fashion products.
Kohl's is a specialty department store offering moderately priced national, exclusive and private brand apparel, shoes, accessories and home products.