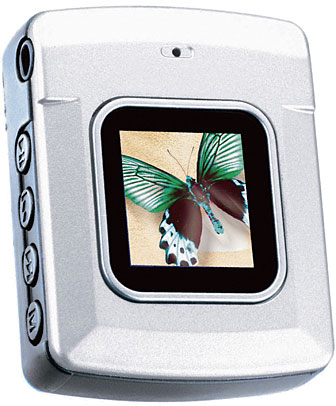 SigmaTel's portable audio System-on-Chip (SoC) solution powers the new Klegg Mini MP3 player, an ultra miniature MP3 player with a color display. Despite its tiny size, the Klegg Mini is packed with features and provides users the capacity to hold over 250 songs, 10,000 photos, or hours of voice recordings. The Mini Color Display MP3 player is powered by the SigmaTel STMP3550 and comes in three models that offer 128MB, 256MB or 512MB of flash memory.
"SigmaTel is committed to delivering technology solutions to its customers that provide them the design flexibility and necessary functionality to develop new devices that push the form factor design envelope without sacrificing functionality and audio quality," said Michael Wodopian of SigmaTel. "The Klegg Mini Color Display MP3 player underscores how SigmaTel's highly integrated solutions can be used to develop new and exciting form factor MP3 players."
The Klegg Mini-128/256/512 Color Display MP3 players provide users the ability to listen music view photos. The Mini comes standard with a one-inch color LCD that offers 128x128 resolution and 4096 colors with full photo display capability. Measuring 1.8 inches in length, 1.6 inches in width and 1/2 inch thick, the Klegg Mini offers voice recording, audio playback in WMA and MP3 formats, slideshow playback and USB 2.
SigmaTel's portable audio SoC solutions provide high-quality audio playback for portable devices such as MP3 players, language learners, and jukeboxes. Through patented semiconductor and software solutions, SigmaTel's product integration and support allows customers to develop multimedia devices with the longest battery life, smallest form factors and lowest system design costs in the market. With flexible software support and upgrade options, the SigmaTel SoC solution offers support for MP3 and WMA audio format algorithms as well as security in WMA DRM.