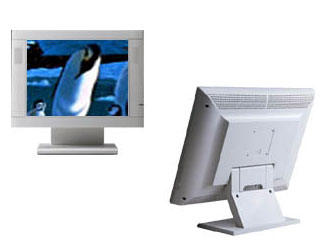 Motorola and Proview today announced that they have signed an alliance agreement to begin the manufacturing and distribution of an innovative line of high quality display solutions that bring the Motorola connected home experience to market. These solutions will incorporate the latest in display technologies and differentiated features, and are planned for phased rollout to territories worldwide beginning in late 2003.
Motorola and Proview will jointly define and create a powerful line of display solutions that will deliver superior design and advanced viewing capabilities for the consumer. Initial products to be released will include LCD computer displays and LCD and Plasma televisions, automotive video, as well as CD/DVD players, recorders and drives. Motorola display products will support high quality entertainment applications, as well as digital content access and control via wired or wireless integration with connected devices throughout the home. In the coming months, Motorola and Proview will be announcing further details on a wide range of products for distribution under the Motorola brand name in late 2003. The two companies will debut initial products for the China market in the Motorola pavilion at the Hi-Tech Exhibition in Shenzhen, China, from 12 - 16 October.
"Motorola is as distinguished and trusted a name as there is in the electronics industry," stated Proview Chairman and CEO Rowell Yang. "It is recognized as a world leader in every category in which it participates. To be sought out and selected to jointly introduce a number of highly desirable products, all delivering the innovative Motorola design experience, speaks volumes about our company and our portfolio plans. We look forward to working closely with the Motorola team in providing consumers with intelligent products of the utmost Motorola quality."
"Proview has a proven track record for quality and integrity in developing key video display products," commented John Burke, corporate vice president and general manager, Motorola Broadband Consumer Solutions. "These advanced display products are a natural extension of our leadership in digital entertainment and information solutions and are an important element in Motorola's connected home strategy."
Corporate Director Ray Uhlir, further commented, "Our company, Motorola, has a strong heritage as an innovator in video display products and continues to pioneer technology in this area. By teaming with a display leader like Proview, we will be able to leverage the strengths of both companies in areas related to product feature definition, design, technology, manufacturing and distribution to deliver highly competitive, market leading solutions with new levels of performance and functionality for the consumer."
Motorola is a global leader in wireless, automotive and broadband communications.